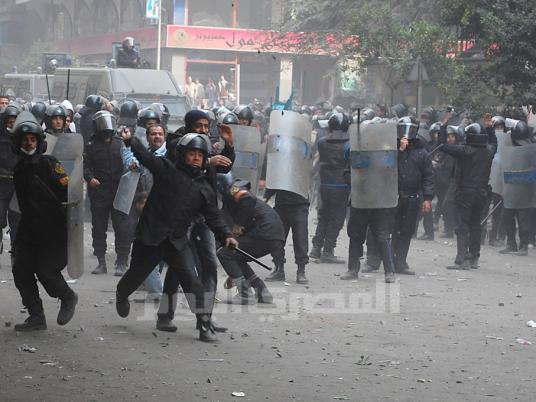 Ahmed Ragheb, member of the fact-finding committee formed by President Mohamed Morsy to investigate the killing of protesters, said their report includes new evidence that would allow for retrials of those acquitted if the political will exists.
The committee was formed with a decision by Morsy to investigate the killing of demonstrators during the 25 January revolution. The committee's report, drafted in six months, includes incidents of protesters' killings in the period of 25 January 2011 to 30 June 2012.
Findings reportedly implicate the Interior Ministry as well as the armed forces in firing live ammunition and bird shots on protesters.
Some sovereign bodies and state TV had declined to submit evidence in the cases of the killing of protesters since the uprising and the ensuing trials, according the report.
Findings also link the tear gas used by security forces during the Mohamed Mahmoud clashes of November 2011 to the death of some protesters by asphyxiation.
Ragheb told Al-Masry Al-Youm that the committee recommended the summoning of hundreds of those involved in the killing of protesters including former interior ministry, armed forces and civil officials, based on evidence against them.
The lawyer however refused to specify the names or posts of those implicated for fear that they would escape. The report will not be officially announced before being handed to the presidency for review.
"Free political will can bring well-known figures to trial," Ragheb added.
Morsy's controversial 22 November constitutional declaration introduced a Revolution Protection Law, which the president claimed would guarantee the rights of the 25 January martyrs and injured revolutionaries as well as ensure retrials for former regime officials accused of killing protesters. The law was criticized for making retrials contingent on presenting new evidence and for including pitfalls that threaten freedoms.
The committee's report found that while dispersing sit-ins, security forces used live ammunition and bird shots, and civilians were hired to assault protesters using weapons and Molotov cocktails.
Former President Hosni Mubarak had access to an encoded television channel with a live stream of Tahrir Square, which was allocated by the former president by his Information Minister Anas al-Fikky. The report put the responsibility of protesters' deaths squarely on Mubarak.
Armed forces and police personnel ended sit-ins by attacking protesters using excessive force and illegal detainments.
The report also detailed controversial practices such as the reported use of virginity tests during military detainments, as well as attacks on women and those who were in charge of protecting protests.
Some were found to have infiltrated demonstrations to commit violent attacks against security forces and provoke them to lash out against protesters.
Edited translation from Al-Masry Al-Youm