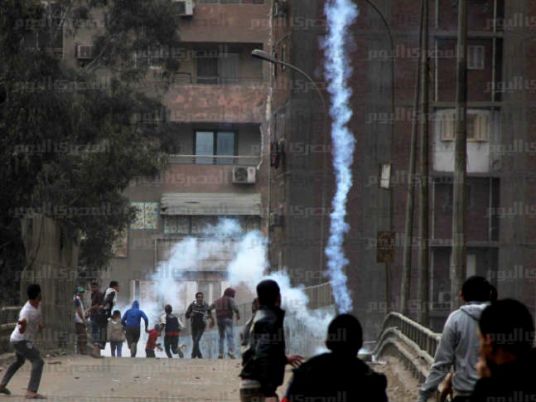 Police dispersed two small pro-Muslim Brotherhood marches in Mohandessin on Friday.
The first march was from Shehab street to Game't al-Duwal al-Arabiya street. The second was from Oraby Bridge to Nahia village.
Clashes occurred between protesters and opponents. The protesters had fled to side streets as the security forces arrived. Police closed Mostafa Mahmoud Square and used two armored vehicles and five CSF trucks for securing the area.
Participants raised images of killed and detained protesters and banners calling on farmers to take part in protests planned on 9 September.
They chanted against the Interior Ministry and the judiciary and lit fireworks. They also held symbolic coffins, the Rabaa sign and images of toppled president Mohamed Morsy.
A security official at Giza Security Directorate said dozens of Muslim Brotherhood supporters set a police vehicle on fire in the Haram neighborhood using Molotov cocktails.
"The driver was injured and suffered bruises and burns," said the official.
He added that the vehicle belonged to Cairo Airport and the security authorities are looking for the perpetrators.
Officials dispersed two pro-Muslim Brotherhood marches in al-Taawon and al-Talbiya areas in Faisal neighborhood after a third march coming from al-Eshreeny area joined them.
The protesters responded with Molotov cocktails and rocks as police fired tear gas.
Limited clashes occurred between drivers and protesters who blocked the main street before the arrival of security forces.
Edited translation from Al-Masry Al-Youm