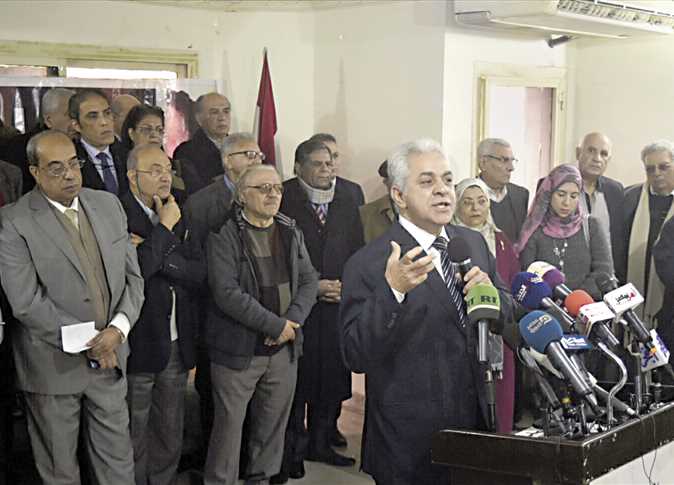 ---
The Civil Democratic Movement, which includes seven parties and 150 public figures, announced their boycott of the upcoming presidential election and called on all Egyptians to respond to the campaign "Khalik fel Bait" (Stay at home) and not to participate in what it called "the electoral comic play."
The movement held a press conference on Tuesday attended by its founders and public figures, including former presidential candidate Hamdeen Sabbahi, former Kefaya member Yahya Hussain Abdel Hadi, former coordinator at the National Association for Change Abdel Galil Mostafa, George Isaac, founder of the Kefaya movement and a member of the National Council for Human Rights (NCHR).
Sabbahi said that any Egyptian who is keen on democratic transition must adhere to his right not to participate in the "farce" that is the election. There are no guarantees, no candidates and no freedoms, then there are no elections, he said.
Sabbahi stressed that the regime bears full responsibility for the political situation as a result of its "arbitrariness and arrogance and adhering to its sole wrong opinion," adding that that "the hand of the national movement is open to every national to stand against the main cause of all what Egypt is suffering from now, which is the absolute individual rule, that despises the Constitution".
He pointed out that the regime has smeared anyone who tried to participate in political life, whether by media distortion, imprisonment, or fabrication of cases. The selection of a rival candidate came to improve the regime's negative image, he said.
Sabbahi continued: We are no longer facing an elections with limited guarantees, but we are in the process of confiscating the right of Egyptians to choose their president and we will not participate in it, and we call on Egyptians to reject the elections".
Yahya Hussain Abdel Hadi, who was chosen official spokesman for the Civil Democratic Movement, said that  the steps of boycott will not be limited to the campaign "Khalik fel Bait" (Stay at home); there will also be other activities across Egypt's governorates. He added that the hand of the movement is stretched to all parties and civil forces.
Former coordinator at the National Association for Change Abdel Galil Mostafa said that these elections are void of all factors of integrity and seriousness and was fabricated to make it difficult for people to choose who they want.
Edited translation from Al-Masry Al-Youm