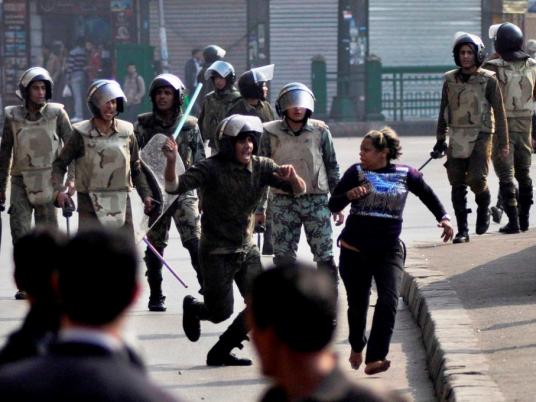 Activists and politicians on Monday decried statements by an Egyptian army official who suggested that protesters in front of the cabinet of ministers should be burned in "Hitler's ovens."
The private newspaper Al-Shorouk reported on Monday that General Abdel Moneim Kato, an adviser to the military's Morale Affairs Department, suggested that instead of worrying about the country's welfare, people were concerned about "some street bully who deserves to be thrown into Hitler's ovens," referring to protesters.
Kato was attempting to justify the military's use of excessive force against protesters during clashes that broke out around the cabinet building on Saturday. The clashes led to the deaths of 11 people, according to the Health Ministry.
Kato criticized the media's coverage of the incidents, saying, "Media always avoid the crux of a problem."
"When did those soldiers use violence?" he asked. "When [the protesters] attempted to burn Parliament and the Scientific Institute."
Abdallah al-Sennawy, chief editor of Al-Arabi Al-Nassery Magazine, told ONTV satellite channel that Kato's statements are grounds for referral to the International Criminal Court.
On Twitter, presidential hopeful Mohamed ElBaradei wrote, "The likes of Kato should be in prison, not in power."
Twitter users harshly criticized Kato, with one user saying, "One strong example of why the Supreme Council of the Armed Forces should not remain in power is that they are stupid enough to appoint someone like Kato as an adviser to the Morale Affairs Department."
In statements on Sunday, Kato said that people influenced by foreign agendas are inciting clashes between the armed forces and the protesters.
He added that some members of the political elite, satellite channels and pseudo-intellectuals are trying to damage the reputation of the military.