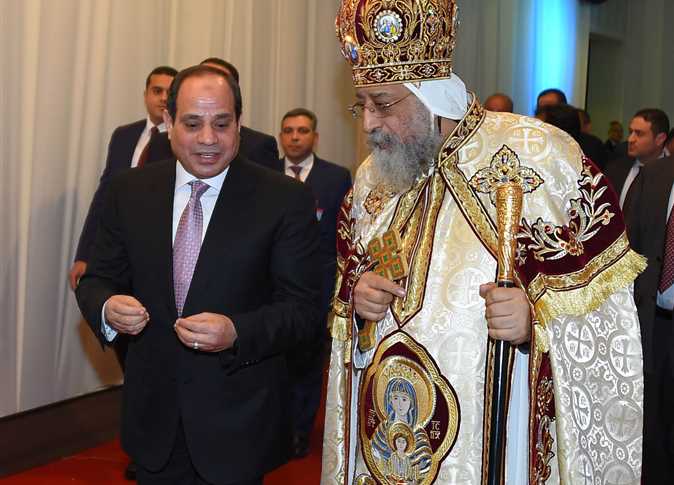 Pope Tawadros II, Pope of Alexandria and Patriarch of the See of St. Mark, reiterated their messages of thanks and appreciation to President Abdel Fattah al-Sisi for his participation in the Christmas Mass at the Cathedral of Christ's Nativity in the New Administrative Capital on Saturday.
In remarks to reporters from Abbasiya cathedral on Sunday, the Pope said that the President promised in 2017 that we will pray in the new cathedral, and the promise is fulfilled by everyone's efforts, dedication and unlimited love.
The Pope stressed that the new cathedral in the New Administrative Capital has a distinctive name and carries a message about Egypt's power in carrying out its promises and that Egypt possessing all the elements of building and success with the hands of its sons.
Tawadros pointed out that Egypt taught the world culture, civilization and tolerance, and now it is restoring its leading role, and that there are churches in Egypt before the discovery of many countries and continents worldwide. He added that churches have existed in Egypt since the first century AD.
"The building of the new cathedral carries a message of peace and love for the whole world. It is strong proof of the depth of relations and brotherhood that binds the masses of the Egyptian people and the world, as well as the brotherhood found in the New Administrative Capital, as the cathedral and the mosque are adjacent. It gives a message to the whole world on the unity of the Egyptian people," Tawadros said.
Edited translation from Al-Masry Al-Youm