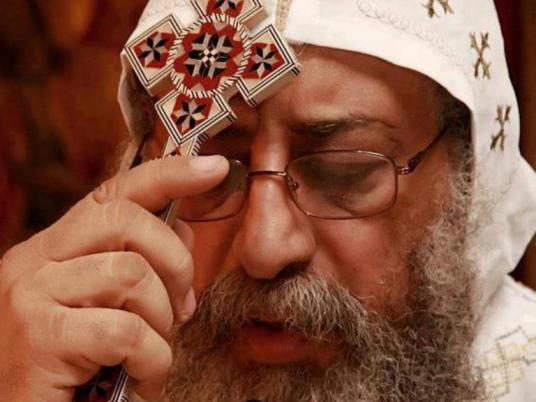 Pope Tawadros II was ordained as the 118th patriarch of the Coptic Orthodox Church in a ceremony at Abbasseya's St. Mark's Coptic Orthodox Cathedral, the Holy Synod announced on Sunday.
The ordination started with bells ringing at churches nationwide. A number of prominent political figures attended the ceremony, including Prime Minister Hesham Qandil, Interior Minister Ahmed Gamal Eddin, Local Development Minister Ahmed Zaki Abdeen, co-founder of Constitution Party Mohamed ElBaradei, Presidential Deputy for Democratic Transformation Affairs Samir Morcos, former Prime Minister Essam Sharaf, former Deputy Prime Minister Hazem al-Beblawy, former presidential candidate Amr Moussa, Muslim Brotherhood Guidance Bureau member Abdel Rahman al-Barr, and a number of other current and former ministers.
News reports had initially circulated saying that President Mohamed Morsy would be at the ceremony. However, the presidential office later announced he would not attend.
Tawadros was announced on 4 November as the successor to Pope Shenouda III, who passed away in March.
Tawadros, formerly the archbishop of Beheira, draws his reputation from being one of the church's dovish figures, known for seeking peaceful solutions to sectarian conflicts that arose under his jurisdiction. He is a close figure to the former interim pope, Bishop Pachomius.
Some, however, accuse Tawadros of failing to sufficiently defend the church. Activist Mina Badie Abdel Malek had called for his removal from the candidate list.
He was named by late Pope Shenouda III as archbishop of Beheira in June 1997. He studied at Alexandria University's Faculty of Pharmacy before graduating from divinity school in 1985.
Edited translation from Al-Masry Al-Youm