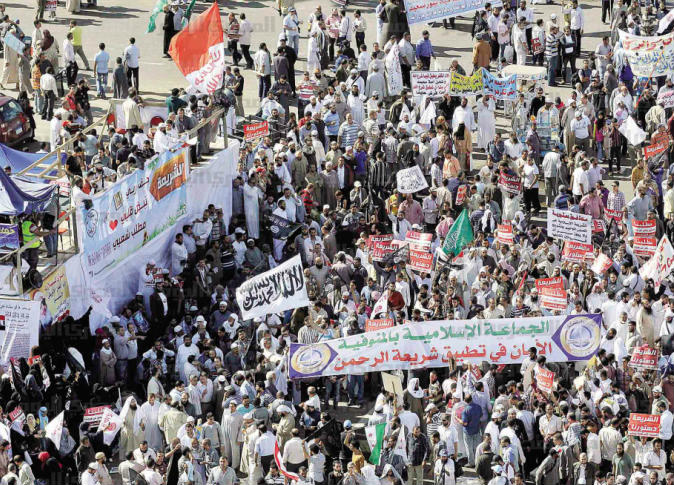 A popular campaign is collecting signatures to lobby for banning and boycotting religiously-oriented political parties.
Mohamed Attiya, who leads the Campaign to Disband Religious Parties, told Al-Masry al-Youm that his campaign had kicked off in Alexandria to survey people's opinions about religious parties' participation in the next parliament. He said the campaign seeks more than two million signatures endorsing a boycott of such parties in the coming polls to be submitted to the presidency.
It has, so far, managed to get 4,000 signatures, said Attiya.
Attiya said the campaign targeted areas considered as strongholds for Salafi Islamist groups, adding that the campaign plans to extend to Fayoum, Sharqiya and Beheira as a next step.
"We obtained a security clearance for our activities and are not afraid of religious parties like Nour Party which enjoys a wide (popular) base in Alexandria," Attiya said, explaining that rather than staging protests, the campaign will go door-to-door to collect signatures.
"I am not against Nour Party which backed the June 30 revolution," Attiya said, referring to the uprising that ousted former Islamist president Mohamed Morsi. " We are rather against mixing politics with religion either by the Nour Party or any other party. The next parliament will be the worst if it is dominated by Islamists."
Islamists managed to establish several political parties with religiously-oriented agendas after the 2011 uprising that toppled former president Hosni Mubarak. Islamist parties, led by the now-outlawed Muslim Brotherhood, won a majority of the first parliament elected following the uprising, which was later dissolved in 2012.
Last month, the Supreme Administrative Court turned down a petition demanding the dissolution of Nour Party over accusations of adopting a religious platform.
Egypt's constitution bans the establishing of political parties on religious or ethnic bases.
Edited translation from Al-Masry Al-Youm