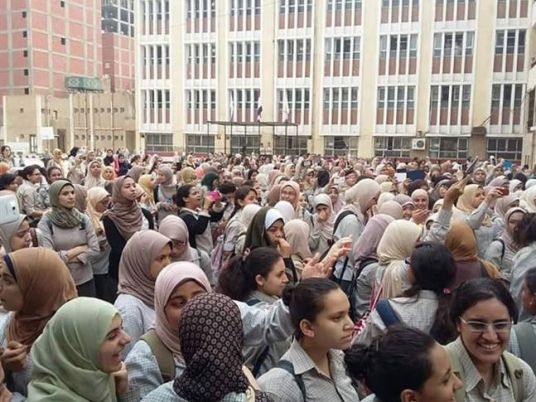 Egypt's security authorities are monitoring any attempts to encourage high school students to cheat on or leak the general school exams, said Red Hijazi, head of the general education sector and general high school examinations at the Ministry of Education, on Tuesday.
"We hope that there will not be any leaks or cheating. If anything does happen, then the perpetrators will be punished. We hope that students, teachers and parents can work together to fight fraud within examination committees," Hijazi said during a press conference on Tuesday.
The examination papers have been written; the questions are for students of all levels to measure a student's knowledge, Hijazi said.
"There are no VIP examination committees, or committees to independently examine ministry officials' family members," Hijazi added.
MP Jamal Shiha, chairman of the parliamentary Education Committee, said the move to change the high school examination system has been described as a "bold decision".
Shiha said no minister in the past 30 years has taken such a decision. He added that social media sites that encourage cheating will not be able to exploit the booklet exam system that is being introduced this year.
The MP commented that the state does not seem convinced that education is one of its priorities, saying: "They say education is the basis for the progress of nations, but there seems to be no commitment."
Hours after the Education Minister's conference, the Facebook page "Shawming Byghashish Thanaweya Amma" (Shawming's Cheats for High School Exams) published the general Arabic high school exam, which is scheduled for June 4.
The Shawming Facebook page has been publishing leaked examination papers for almost five years and so far the administrators have evaded capture, despite the efforts of Education Ministry officials and the police.
Previous comments published by Shawming appear to express concern about the education system in Egypt and it seems the leaks of examination papers this year may be partly intended to provoke protests that could force change.
Thanaweya Amma refers to the final years of high school, which students attend between the ages of 17 and 18, and is a crucial educational stage in Egypt. A student's score in the examinations can determine whether they are admitted to a free public university and what course they are able to study.
Authorities have worked to maintain consistent examination standards over the past few years, despite the political, economic and social turbulence of post-Mubarak Egypt. During the security void following the January 25 Revolution, the Armed Forces transported exam papers using armored vehicles and helicopters.
Edited translation from Al-Masry Al-Youm