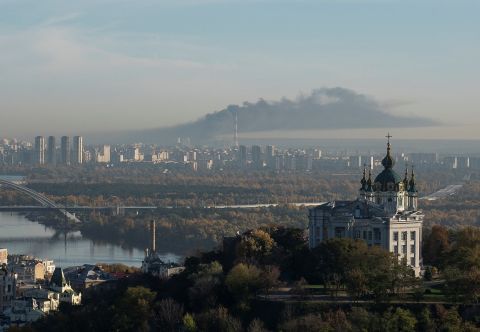 Areas in at least three Ukrainian cities, including the capital Kyiv, are experiencing power interruptions as a result of Russia's strikes on critical infrastructure on Tuesday, according to Ukrainian officials.
The local energy company in Kyiv, DTEK, said in a statement on Facebook that a residential neighborhood in the city is experiencing power cuts and water outages.
"Russian shelling has damaged a critical infrastructure facility in the Desnyansky district, causing interruptions in the electricity supply to the residents of the Troyeshchyna residential district and the water channel that supplies water to the Left Bank of the capital," the company said.
In Dnipropetrovsk region, at least three areas, including parts of Dnipro city, experienced electrical outages and a water pumping facility lost power after Russia launched two missiles at an energy facility, causing "fire and severe destruction," according to local authorities.
A CNN team in Dnipro saw from a distance the aftermath of a hit on a power plant in Dnipro and smoke rising from the facility.
Further west, the mayor of Zhytomyr said in a statement earlier that the city was experiencing power and water cuts, with hospitals running on back up energy.