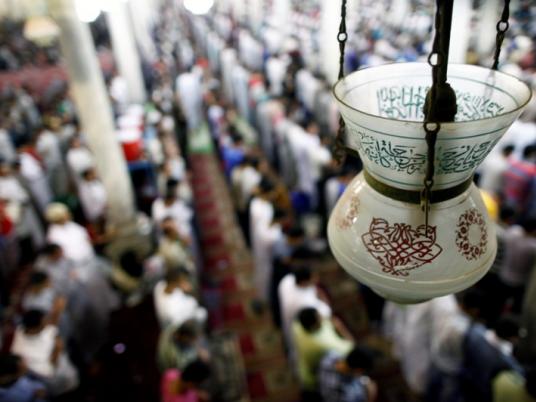 Several preachers condemned the demonstrations against the Muslim Brotherhood in their Friday sermons today, describing the protests as attempts to sow sedition.
"Those who called for the protests Friday should not think they are struggling for the sake of God and the homeland," said Sheik Ahmed al-Mahalawy at the Leader Ibrahim Mosque in Alexandria.
"The organizers are struggling for the sake of their own desires after Satan tempted them," Mahalawy added.
"The current days are blessed. You have to think of Hajj or Umra, or devote yourselves to obey God, as these days are an opportunity to get closer to God."
In Beni Suef, Sheikh Maher Abbas of Al-Rahman Al-Rahim Mosque in Baba village said that the political forces staging protests against "brotherhoodizing" the state aim to sow sedition and undermine the security of the country.
"Some satellite channel workers are throwing accusations haphazardly. They seek to divide people and obstruct the 'production wheel' createdy by President Morsy," he said.
In Fayoum, the imam of the Qouta village mosque appealed to citizens to come together to overcome the economic crisis in Egypt.
"The demonstrations … prevent the stability that we all seek, because they drive away investors from the country," he declared.
The imam at Fatah Mosque in Ramses said that Egyptians should unite ahead of the upcoming Eid al-Adha holiday. He called on citizens to accept the difference between each other.
The imam at the Omar bin Abdel Aziz Mosque near the presidential palace criticized last Friday's clashes.
"Politicians are the cause of what happened, because they hijacked dialogue and debate, and only appear in media to give their statements," the imam said.
"They monopolized thought, and maimed whoever disagreed with them in opinion," he added.
In Khazendar Mosque in Shubra, Imam Ehab Matar called on Egyptians, especially the protesters at Tahrir, to put the interests of the nation above personal desires and partisan demands.
Edited translation from Al-Masry Al-Youm