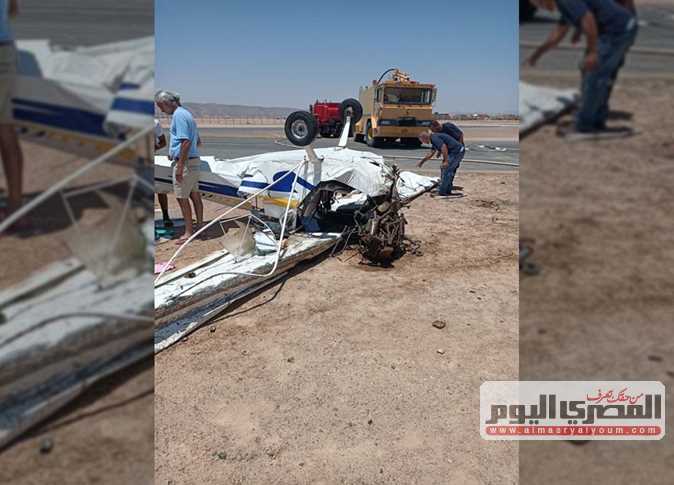 Egypt's Public Prosecutors inspected the scene of a Gouna Airport airplane crash on Thursday afternoon and listened to eyewitnesses who confirmed that the plane rolled over more than once, only meters away from the airport runway.
Top Prosecutor Hamada al-Sawy ordered an investigation into Thursday's crash, which resulted in the death of two pilots.
Medical workers in the Red Sea Governorate reported that the victims are Mohamed Saeed Khalil Mohamed al-Seroojy, 61, and Akram Khalil Khalid Hasan al-Hossary, 36.
Initial investigations showed that a two-seater Apollo Fox aircraft had an accident on the runway of Gouna Airport while it was conducting a test flight.
According to investigations, the front part of the plane, where the two victims sat, was destroyed.
Prosecutors listened to the testimonies of two eyewitnesses who said that they saw the plane rapidly hit the runway, before rolling over several times.

Prosecutors said they would investigate the incident further, to determine its cause.
The Ministry of Civil Aviation in Egypt said that a plane belonging to the Air Man Sky Sports company crashed on Thursday while landing at Gouna Airport, Red Sea, killing the two pilots on board.
Egyptian Minister of Civil Aviation Mohamed Manar ordered the formation of a committee to investigate the causes of the accident.
Gouna Airport is located inside Gouna resort, which was founded by Egyptian billionaire Samih Sawiris more than 30 years ago on the Red Sea coast outside Hurghada, which is about 450 km southeast of Cairo.
Edited translation from Al-Masry Al-Youm