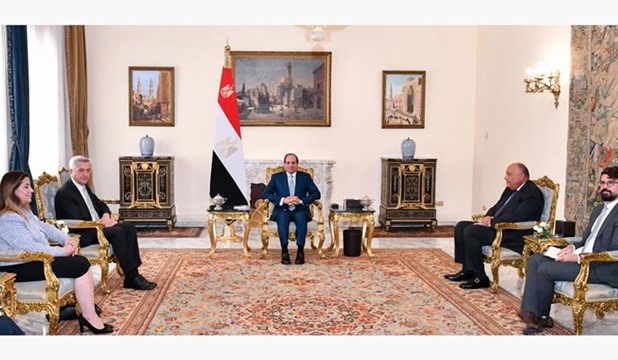 President Abdel Fattah al-Sisi stressed the importance of dealing with the phenomenon of refugee flows and all forms of displacement, through a comprehensive approach addressing the real roots of crises related to challenges of settling conflicts and achieving security and political stability and comprehensive sustainable development.
This came during President Sisi's meeting with UN High Commissioner for Refugees Filippo Grandi, in the presence of Foreign Minister Sameh Shoukry.
In statements on Monday, Presidential Spokesman Ahmed Fahmi said that President Sisi lauded the "decades-old" cooperation between Egypt and the UN High Commissioner for Refugees (UNHCR), as well as efforts made by the UNHCR at the international level in light of the escalating global refugee crisis.
For his part, Grandi asserted the UNHCR's keenness on boosting cooperation with Egypt, underlining Egypt's crucial role at the regional and international levels in this regard.
He also expressed the UNHCR's appreciation of Egypt's efforts to host a large number of refugees from different nationalities.
He cited his visit to the crossings on the Egyptian-Sudanese borders, where he touched on the genuine efforts exerted by the relevant Egyptian parties, in cooperation with the UN bodies and the Egyptian Red Crescent, to help the arriving refugees, whether from Sudan or other countries.
Grandi also called on the international community and donors to lend a helping hand to countries hosting refugees and those affected by forced migration or displacement.
The meeting took up means of boosting cooperation between Egypt and the UNHCR in light of the onerous burdens borne by Egypt, as a destination for refugees from many sisterly countries, who live side by side with the Egyptian people as brothers, sisters and guests.
The UN High Commissioner also expressed his deep appreciation of the intensive efforts made by Egypt to help defuse the crisis and restore security and stability in the war-torn Sudan.
According to the UNHCR, Egypt is the largest refugee status determination (RSD) operation globally.