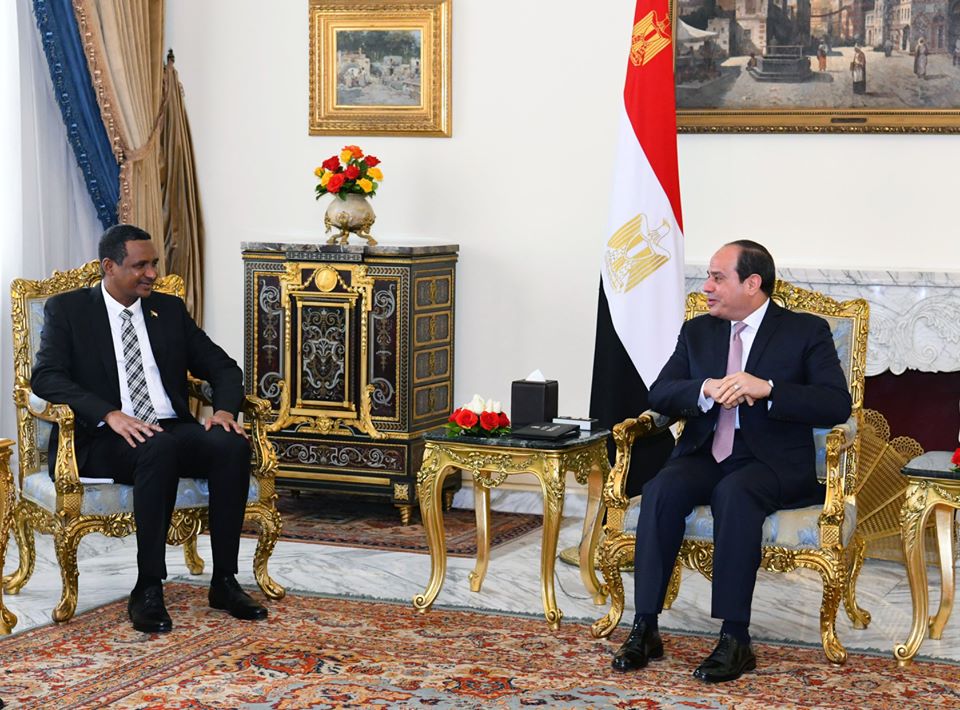 Egypt's President Abdel Fattah al-Sisi on Sunday received the Deputy Head of Sudan's Transitional Military Council Mohammad Hamdan Dagalo at the Ettehadiya Presidential Palace, in the presence of  Egyptian General Intelligence Service head Abbas Kamel.
The meeting reviewed developments in the contentious Grand Ethiopian Renaissance Dam (GERD) issue, in light of an agreement reached in Washington initialed solely by Egypt.
Dagalo first arrived in Egypt on Saturday in a state visit for two days at the invitation of president Sisi.
Sisi said that Egypt's policy has always been supportive to Sudan, particularly during its current sensitive transitional period. In response Dagalo praised Egypt's sincere support for helping to preserve Sudan's stability and safety.
Egypt took part in the latest meeting over GERD in Washington on February 27 and 28, which produced a final agreement regarding filling and operating the GERD.
Representatives from Addis Ababa were noticeably absent from the meeting, and only Egypt has signed the agreement so far. Sudan has also abstained from signing the agreement to fill and operate the GERD.
Ethiopia has said that the filling of the dam will begin in July, while the completion of the entire project is scheduled for 2023.
Egypt's Ministries of Foreign Affairs and Water Resources rejected Ethiopia's plan to fill the reservoir of GERD in parallel with construction work on the dam regardless of whether an agreement has been reached with downstream countries.
Egypt relies on fresh water from the Nile and has voiced concerns that the GERD would negatively impact the country's water supply, especially in light of overpopulation fears, and has thus insisted throughout negotiations that measures be put in place to protect downstream countries in case of drought during the filling process at the dam.
Edited translation from Al-Masry Al-Youm