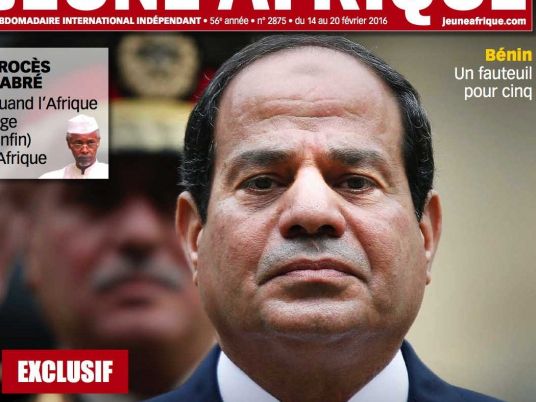 A presidential pardon for former President Mohamed Morsi is premature, President Abdel Fattah al-Sisi told Jeune Afrique magazine, adding that judicial procedures in Egypt take a long time.
"None of them have been executed so far," said Sisi, commenting on the death sentences handed out to Morsi and other Muslim Brotherhood leaders.
Morsi is still on trial and no final rulings have been issued yet, he said, pointing out that former President Hosni Mubarak's trial started in August 2011 and is still ongoing.
Jeune Afrique magazine's February 14 issue puts Sisi on the cover under the title "The world's fate revolves in Egypt".
Journalists Laurent De Saint Perier and Francois Soudan interviewed Sisi for the issue, which addresses issues of terrorism, military intervention in Libya, judicial rulings in Egypt, Syrian President Bashar al-Assad, human rights and the Muslim Brotherhood.
Edited translation from Al-Masry Al-Youm