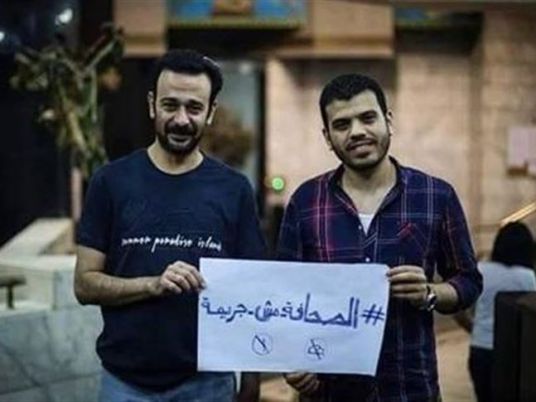 After his release from prison on Saturday, Amr Badr, editor-in-chief of yanair.net, has spoken about the experience of spending 125 days in remand on charges of alleged support for mass anti-government protests.
Badr was arrested on May 1 along with colleague Mahmoud al-Sakka as part of a crackdown on those thought to be involved in protests against the transfer of two Red Sea islands from Egyptian control to that of Saudi Arabia in April.
"Prison has not changed my convictions and I still believe that Tiran and Sanafir islands are Egyptian," said Badr, who was released on LE5,000 bail at the weekend.
He was not subjected to torture in prison, but suffered from severely restricted movement and great psychological pressure along with Sakka, he said.
"We were locked for 70 days in a 3-meter-square cell and were not allowed out throughout the whole time, even though other prisoners were allowed out for two or three hours every day," Badr recounted.
"They prevented our families and lawyers from visiting us for 21 days. We slept on the floor for 120 days, while almost all other prisoners had either beds or mattresses," he added.
Badr expressed his appreciation for the support of journalists and the Journalists Syndicate while he and Sakka were in custody, saying it was largely thanks to pressure applied by them that the two inmates served the last part of their imprisonment in better living conditions.
Badr and Sakka were remanded into custody over charges of publishing false news, inciting protests, and attempting to bring down the administration of President Abdel Fattah al-Sisi.
Both denied the charges brought against them.
Their arrest came as a part of a broader police crackdown on journalists after April 25, in connection to objections from the media and the general public to an agreement redrawing maritime borders, signed between the Egyptian president and Saudi King Salman bin Abdel Aziz.
In an apparently unprecedented move, a group of armed security officers entered the Journalists Syndicate headquarters in May and arrested Badr and Sakka, who had taken shelter in the syndicate building. They were arrested on a warrant from the General Prosecution on suspicion of inciting protests and publishing false news.
The arrests sparked uproar among syndicate members, who claimed that the police had broken the law in entering the building without proper authorization and prior permission.
Edited translation from Al-Masry Al-Youm