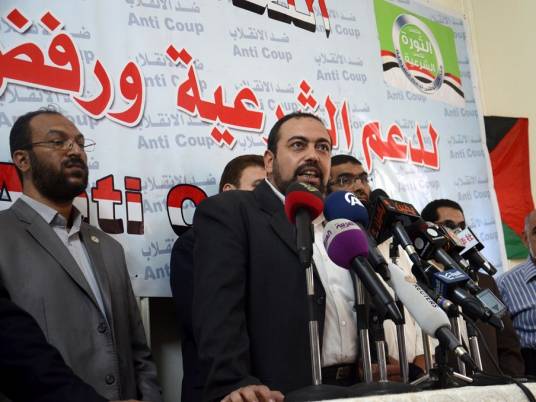 The pro-Mohamed Morsy National Alliance to Support Legitimacy meets on Tuesday with a delegation from the European Union, which has arrived in Cairo on Sunday evening, in a three-day visit, during which they meet many officials, to discuss the latest developments of the situation in Egypt .
Alliance member Magdy Salem, the vice president of the Islamic Party, told the press, "The Alliance decided to meet with the EU delegation on Tuesday, so that we can put forward [our] full vision."
"Although we had previously decided not to hold such meetings, at the end we saw its importance and agreed to meet with them," he explained.
Amr Farouk, Wasat Party a spokesperson, previously stated that the alliance had received an invitation from the UE delegation to meet on Monday and discuss the participation of the Alliance supporters in the amended constitution referendum.
The alliance had then turned down the invitation for a meeting, and informed the delegation that participation depends on three conditions. First is providing a climate of freedom with regards to the referendum, with the freedom of the press and publicity, second is the availability of necessary guarantees, starting from the preparation of name lists and announcing sub-committees. Thirdly is to find constitutional way to solve the current situation, because "what is built on falsehood is false."
The alliance delegation in the talks would be headed by Mohamed Ali Beshr, Morsy-era Local Development Minister.
Edited translation from Anadolu Agency