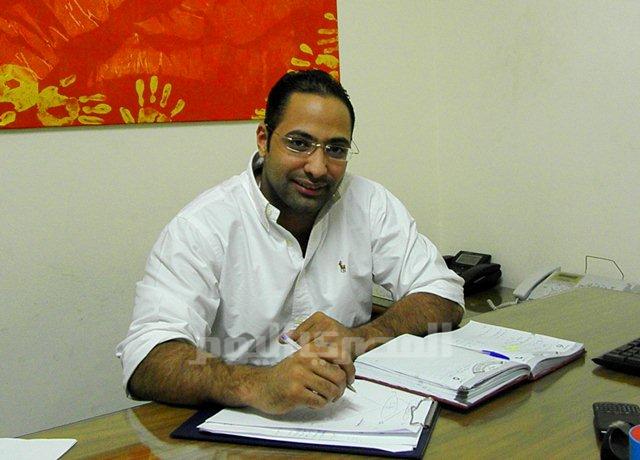 For Mostafa Shouman, decentralizing Egypt's power structures is one of the biggest challenges for the future of the country.
"While people are busy fighting over who is going to control the political machine, we are working to get the youth in control of the gears of that machine," says Shouman, founder of the Ma7liat (Municipalities) initiative that is campaigning to redevelop Egypt's now-dissolved municipal councils.
Municipal councils are small, communally elected governments that manage and provide services and facilities to designated districts and neighborhoods, such as repairing roads, monitoring electricity distribution, building recreational centers and managing waste.
The 28-year-old recently quit his full-time job as a banker to focus his energy on the initiative, which was launched in January and is currently headquartered at a shared office in Heliopolis. He currently does freelance work as an economic researcher to make a living.
"Everyone is waiting for a president to come along and fix everything from the top down — it doesn't work like that," he says. "We need grassroots, revolutionary forces taking control from within their respective communities and pushing from the other side."
On an average day, Shouman spends most of his time in the office working on the Ma7liat initiative — the line of people waiting to see him upon my visit being testament to this.
Over the phone, Shouman comes across as older and more prudent than a man of 28. In person, his jovialness and youthful optimism shine through.
Born and raised in Cairo in a middle-class household, he now resides on his own in Nasr City.
A finance and marketing major, with a master's in Islamic banking from the German University in Cairo, Shouman says he has always had an active interest in local development and working with municipal councils. However, he admits that before the revolution began, "it was like trying to operate a phone without a battery."
According to Shouman, certain laws were put in place [and still remain], such as Law 47/1979 and various amendments made in 1988, that basically stripped municipal authorities of their executive privileges, meaning that a task as small as changing a streetlight would require the governor's approval.
In addition to this, Shouman says that research done by Al-Ahram Center for Political and Strategic Studies found that during the Mubarak era, aging NDP members and cronies of the former president held 99 percent of the municipal seats, and 70 to 85 percent of Cairo's annual municipal funds — LE4.4 billion — went to paying their salaries.
"These were not communally driven councils, to say the least," says Shouman. "In fact it was more about destroying communities and stripping people of their national pride."
Shouman believes that these municipal structures forced Egyptians to forgo their right to communal authority and active participation.
"It's not 'foreign hands' that are going to divide and conquer the country; without municipal empowerment and laws, those in power can do it to you on your own street," he says.
Therefore, when the municipalities were dissolved by the military council following the 18 days of protest last year that lead to Mubarak's ouster, he saw this as a unique opportunity to redevelop Egypt and began putting together the research and team that eventually became the Ma7liat initiative.
Shouman, a self-declared secularist, is quick to say that ideology should be kept out of local governance.
"Whether you are Muslim or Christian or socialist, there is one way to pave a road efficiently," he says. "Service must be the priority."
He admits that at first, his interest lay in wanting to be part of a future municipal authority. However, after it became evident that Egypt wouldn't be drafting a constitution before elections, followed by parliamentary elections largely dominated by Islamists, Shouman's aspirations changed.
"The young revolutionaries, many of whom died, who were up for paying the price when it mattered most, are now nowhere to be seen in politics," says Shouman. "They should have been respected and consulted."
To counter this, Shouman opted to gear his initiative toward fighting for the rights of the revolutionary youth and ensuring their rights and participation through future municipal councils.
"If the youth understand that they can gain control of their own community through active participation, it could lead to future platforms for parliamentary elections down the line," he says.
Municipal elections are expected to take place during the summer, so Shouman, his team of specialists, plus dozens of volunteers, have been hard at work.
To achieve these goals, Ma7liat has four basic "pillars": lobbying to amend the laws that disempower municipal councils; running mass awareness campaigns; hosting youth capacity building workshops; and lastly, developing a research center to analyze and monitor local council performance in the future.
Shouman is currently working with lawyers, NGOs and the Local Development Ministry to lobby Parliament to amend the laws.
"This is the most important part of the decentralization process: re-empowering the councils to make administrative decisions. Without these amendments, the future could be disastrous, depending on who comes into power," says Shouman.
Meanwhile, campaigns have started this year — online, in publications, and on the street — in respective communities.
"We are teaching the youth what it means to be part of a community, and to take control of it and establish yourself as a viable representative of that community, as well as how to communicate effectively with executive bodies," says Shouman.
"It is important for the youth to learn how to stop asking for top-down favors, and learn how to use the community to put pressure upward through vision, not just protests," he adds.
It is Shouman's belief that the future of Egypt depends of individuals taking responsibility for their future, and no longer waiting for a "father figure" to solve their problems.
"Protests and mobilization were evidence of this, but it has to evolve into a deep communal structure, beyond painting sidewalks and picking up garbage. People need to take Tahrir into their homes," he adds.
Though Shouman is generally optimistic, he is also aware that it will take many years to properly decentralize Egypt's power hierarchies.
"Revolutions only open the arena for change, and it's important to do two things: keep that arena open, and make as many important, even if small, victories along the way," he says.