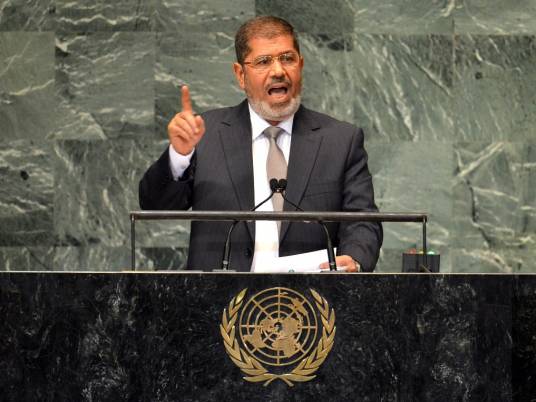 The Public Prosecution has summoned Al-Ahram Chief Editor abdel Nasser Salama to question him over the publishing of news that Public Prosecutor Hesham Barakat had ordered the detention of ousted President Mohamed Morsy for 15 days pending an investigation on charges of spying and breaking out of Natroun Valley prison.
Salama will appear at the High Court at 1pm on Monday.
Ahmed al-Rakeeb, media coordinator of the public prosecution, said that the news published by Ahram on Monday was untrue.
In a statement on Monday, the prosecution called on media professionals to stick to accuracy in their news. It added that the prosecution will never be reluctant in dealing with media figures who circulate inaccurate news and that it will take legal measures against them.
Meanwhile, Morsy's family held a press conference on Monday at the Engineers Syndicate. His daughter Shaimaa decried what she described as an "assault against [my] father's freedom," adding that what had happened during the 30 June protests was a "bloody military coup."
She also rejected the detention of her father, as he is "the country's legitimate president."
In a statement, the family called for Morsy's release.
Mohamed al-Damaty, deputy of the Lawyers Syndicate, described Morsy's detention as an "abduction" and called on Egyptians to not be silent and to stop this crime.
Edited translation from Al-Masry Al-Youm