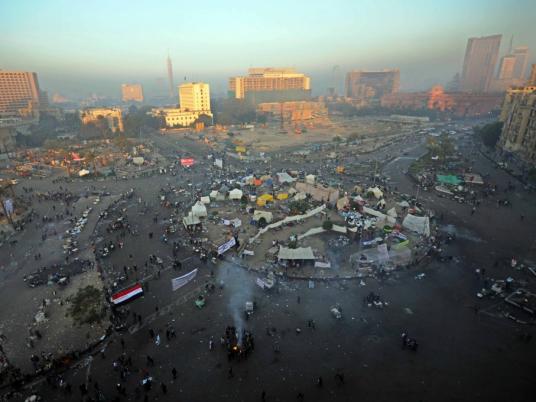 Hundreds of protesters marched from Mostafa Mahmoud mosque in the Mohandiseen neighborhood of Cairo to Tahrir Square Friday afternoon, to join a growing demonstration in the square which has been dubbed "Friday of Restitution for the Martyrs of Mohamed Mahmoud."
The marching demonstrators carried symbolic coffins covered with the Egyptian flag, chanted slogans against the ruling military council and its head, Field Marshal Hussein Tantawi, and demanded an end to military rule.
Twenty-three political parties and movements on Wednesday had called for a Friday protest in Tahrir to mourn those killed in clashes between protesters and police on Mohamed Mahmoud Street in late November.
The protesters are demanding rapid trials for those responsible for killing protesters, a handover over authority to a civilian government and the end of military trials for civilians.
Members of popular committees have been deployed to all of Tahrir's entrances in order to check IDs and guarantee that no thugs will infiltrate the demonstration.
At the protest, condolences for the deceased will be offered from 1 to 4 pm, followed by a march during which symbolic coffins will be hoisted until 6 pm. A memorial service will then be held from 6 to 7 pm, according to a statement issued by the political powers organizing the protest.
The political movements and parties calling for the demonstration included the Socialist Popular Alliance Party, Revolutionary Socialists, Workers Democratic Party, Egyptian Democratic Social Party, 25 January Revolution Youth Coalition, April 6 Youth Movement, Democratic Front and Maspero Youth Union.
The Supreme Council of the Armed Forces (SCAF) attempted to preempt Friday's protest on Thursday night, by issuing a statement pledging to refer those responsible for killing protesters to trial following the conclusion of the public prosecution's investigation into the November clashes.