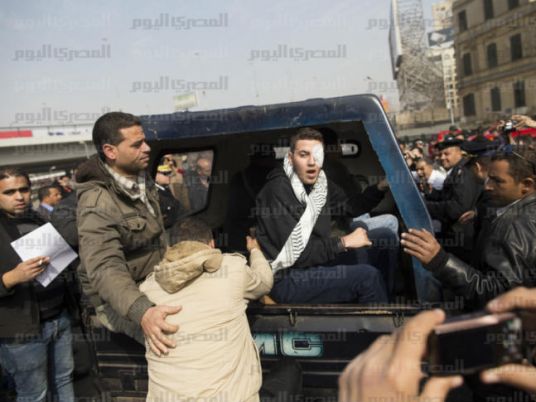 Security forces made at least 12 arrests in Cairo on Friday afternoon, dispersing several groups of people apparently seeking to protest against the Egyptian government's handing over of Tiran and Sanafir islands to Saudi Arabia.
A group of protesters was dispersed outside Mostafa Mahmoud Mosque in Giza after Friday prayers, with 12 people arrested. Security personnel chased dozens of protesters down side streets.
Meanwhile, tear gas was used to to disperse several dozen protesters near Giza's Estiqama Mosque, according to security sources.
Security forces were deployed on Friday in different streets and squares in Greater Cairo ahead of protests against the handing back of the two Red Sea islands to Saudi control in a deal signed between Egypt and Saudi Arabia last week.
Security sources said that the protests were dispersed due to concerns that armed elements might infiltrate the marches. They pointed out that participants were arrested for protesting without a permit in violation of the law regulating protests.
The Egyptian Company for Metro Management and Operation announced on Thursday evening the closure of Sadat Station throughout the day on Friday ahead of protests.
The Ministry of Interior also issued a statement on Thursday evening warning citizens against taking part in demonstrations on Friday.
Facebook pages and opposition political movements, including April 6 Youth Movement, the Revolutionary Socialists, and the Muslim Brotherhood, called for mass protests on Friday against the government's decision.
President Abdel Fattah al-Sisi met with a number of MPs to respond to violent criticism of the transfer of the islands to Saudi Arabia after several decades of Egyptian control. The transfer came as part of a recent agreement on the demarcation of the maritime border between Egypt and Saudi Arabia.
The move was met with strong criticism in Egypt, including calls for street protests, with security measures intensified in downtown Cairo as a result.
An Interior Ministry statement expressed respect for the rights of citizens to express their views on various national issues, so long as they abide by the law.

However, the ministry said that the Muslim Brotherhood — labeled as a terrorist group by the government — plans to exploit protests over the islands to create chaos and clashes with the security forces. The ministry said it would take the necessary legal measures to preserve stability and security.
Edited translation from Al-Masry Al-Youm