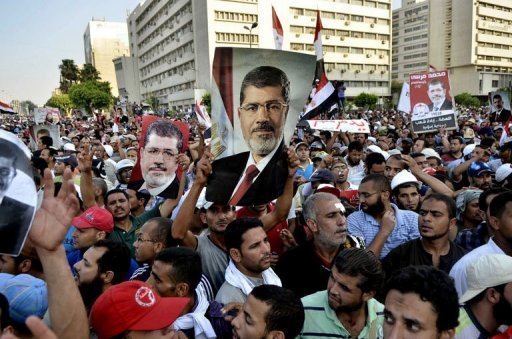 Residents living close to Rabea al-Adaweya mosque in Nasr City have called on pro-Morsy protesters to break up their sit-in before 3 pm on Thursday.
Rabea residents have demanded all side streets leading to Rabea al-Adaweya Square be cleared, after supporters of Egypt's ousted President Mohamed Morsy built up barricades and formed popular committees on Nasr Road and Tayaran Street.
Other complaints include regular searches of people moving near the sit-in site, the use of fireworks after midnight and the use of loudspeakers.
Local residents have called on authorities to secure their demands for a normal, safe life.
People living in the area have warned that if their demands are not met by the Thursday deadline, they will gather at 6 pm to peacefully call for the break-up of the protest and call on the authorities to take action.
Local residents have created a Facebook page entitled "An appeal by Rabea residents," which has already generated 18,000 likes.
"Nasr City in general and Rabea al-Adaweya in particular have been living under a real siege for 20 days," residents said in a statement. "Traffic is blocked in main and side streets around Rabea and we suffer from the fact that [the protesters] shower, urinate and defecate in yards, besides playing loudspeakers at all hours."
Life has come to a standstill as a result of the sit-in, residents claimed.
"Many of us are unable to go to work. The sick and the elderly are in bad condition because we can not be reached by ambulances or doctors…nor do we have access to pharmacies."
"Some apartments have been hit by gunshots, intentionally or unintentionally, but – thank God – there have been no injuries," the statement added.
Edited translation from Al-Masry Al-Youm