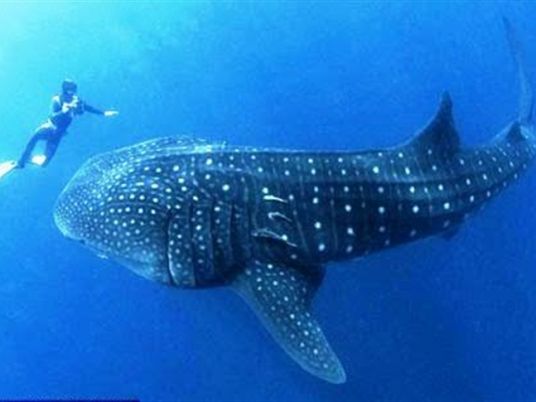 Divers have spotted a whale shark, known as Bahloul, at the Abudiab area north of Marsa Alam for the first time since its last appearance in November 2016, the Red Sea Reserves announced.
Guidelines were published on how to deal with the Bahloul shark, which has frequently appeared in several areas in Marsa Alam and Hurghada recently, by the Red Sea Reserves management on its official Facebook page.
The statement warned against attempts to touch or chase the shark, or forcing it to change direction. The statement instructed that people should keep three to four meters between themselves and the shark.
Camera flashes may also aggravate the whale shark. The shark poses no threat to those who do not disturb, said Red Sea Peserves manger Ahmed Ghallab.
He added that the Bahloul shark has appeared several times in three different areas across the Red Sea area, including Port Ghalleb, al-Fanous area, and between the two islands of Geftoun.
This shark comes from the Indian Ocean through Bab el-Mandab to the Red Sea, according to Ghallab.
Specialists in marine sciences consider the appearance of Bahloul to be a rare environmental event which demonstrates the success of the protection of the Red Sea's marine environment, and Egypt's commitment to international agreements in this regard, leading to the settlement of the whale shark in the Red Sea.
The rare animal is called a Bahloul by locals due to the white dotted pattern on its skin. It ranges between five to six meters long and has no teeth.
The whale shark owes its name to its gargantuan size, with the largest adults reaching up to 13 meters in length. The species is distinguished by the white, polkadot-like pattern on its skin, interspersed with pale stripes. They feed mainly on plant plankton and pose no danger to humans.
Hunting the shark is banned in Egypt as the species is endangered, and concerted efforts have been made to preserve the Red Sea ecosystem, which is the habitat of several rare and endangered species.