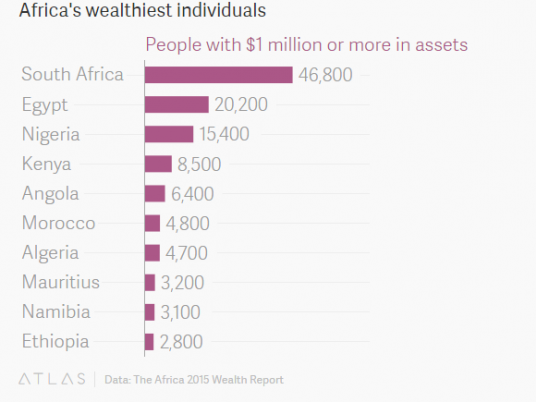 Egypt has the second largest number of millionaires in Africa after South Africa, according to news website
Quartz
, citing a New World Wealth research firm report.
The New World Wealth report said Egypt has 20,200 millionaires, ranking second after South Africa, which has 46,800 millionaires.
The number of people in Africa who possess assets worth US$1 million or more has grown by 145 percent since 2000, which is twice the global average over the same time, Quartz said. The number is expected to increase by 45 percent within the next decade.
Algeria and Morrocco came among the top 10 African countries of millionaires. Morroco ranked sixth with 4,800 millionaires, followed by Algeria in the 7th with 4,700 millionaires .
Wealth per capita has increased by 133 percent in Africa over the past 14 years, compared to the international wealth per capita rate which stands at 63 percent, according to the report.
Angola has witnessed the highest increase in the wealth per capita rate in the region with 532 percent growth.
Johannesburg, commercial capital of South Africa, has the highest percentage of millionaires in the continent, as the number reached 23400 millionaires. It also includes the richest people in Africa, followed by Lagos in Nigeria. The number of millionaires in Lagos reached 9100 millionaires.
The study mentioned that the ratio of millionaires compared to population was the highest in the island of Mauritius, where 2,469 millionaires per million people exist, followed by Namibia, then South Africa and Angola. Egypt ranked fifth with 246 millionaires per million people.
Morocco and Algeria were among the top ten with 146 and 120, respectively, per million people.
Seven men in Egypt is populated by two families Sawiris and Mansour kept their spot among the world's richest men with a combined wealth of US$21.5 billion compared to $17 billion last year,
Forbes magazine
said in a
report
on March 2, 2015.
Egyptian construction mogul
Nassef Sawiris
, the youngest among the Sawiris siblings, was the first Egyptian and the 225th Forbes list 2015 with a total worth of $6.3 billion compared to a net worth of $6.7 billion.