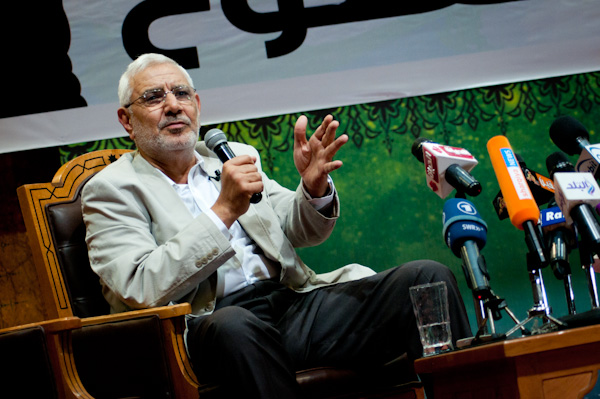 Preliminary results of expatriate voting in the presidential election show that moderate Islamist candidate Abdel Moneim Abouel Fotouh is leading the field.
Egyptian Ambassador to Austria Khaled Shamaa said in a statement Friday that Abouel Fotouh came in first with 223 votes, Amr Moussa finished second with 171 votes, Hamdeen Sabbahi third with 129 votes, Mohamed Morsy fourth with 111 votes, and Ahmed Shafiq fifth with 109 votes. Khaled Ali garnered 12 votes while Mohamed Selim al-Awa had six.
The Egyptian Ambassador to the US, Sameh Shokry, announced that Abouel Fotouh leads the race in the US with 882 votes, followed by Moussa with 664 votes, and Sabbahi with 661 votes. Shafiq received 454 votes, Morsy received 300 votes, and Ali and Awa garnered 49 votes each. Hesham al-Batawisi received four votes followed by Abul Ezz al-Hariry with two.
Abouel Fotouh also finished first in Germany with 647 votes, followed by Sabbahi with 476 votes and Morsy with 199 votes. Moussa garnered 177 votes, Shafiq 76 votes, Ali 40 votes and Awa 25 votes.
In Yemen, Egyptian Ambassador Ashraf Aql announced that Morsy came in first with 109 votes, followed by Abouel Fotouh with 72 votes and Moussa with 37 votes. Sabbahi received 31 votes, Shafiq 30 votes, Awa 12 votes, Batawisi 5 votes and finally Ali 2 votes.
In Sudan, the Egyptian Embassy announced that Morsy ranked first with 241 votes, followed by Abouel Fotouh with 139 votes and Sabbahi with 112 votes. Moussa received 61 votes, Shafiq 43 votes, Ali seven votes, Awa five votes and Batawisi one vote.
Egyptian Embassy in Khartoum added that voter turnout was less than 50 percent as 1,339 voters registered for the elections but only 611 participated. One ballot out of 611 was invalid, a statement from the embassy said.
Egypt's Embassy in Paris announced that Sabbahi finished first with 687 votes, followed by Shafiq with 667 votes and Abouel Fotouh with 652 votes. Moussa received 579 votes, Morsy 371 votes, Ali 32 votes, Awa 29 votes, Batawisi 28 votes, and finally Hariry three votes.
Edited translation from MENA