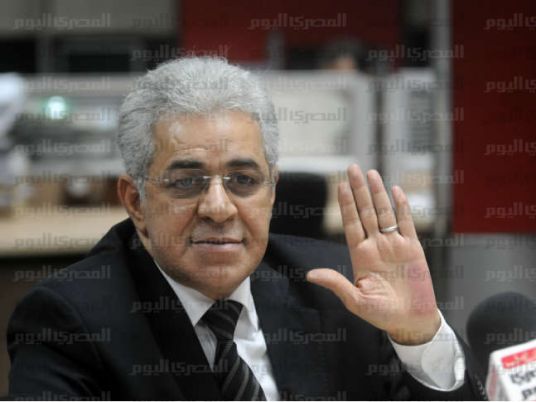 Former presidential runner Hamdeen Sabbahi has said that collective death and jail sentences issued against leaders of the Muslim Brotherhood question the fairness of their prosecutions, days after former president Mohamed Morsi was sentenced to death over charges related to his escape from prison in 2011.
"In my estimation, collective punishments on Mohamed Morsi and his group in espionage and jailbreak cases will shake the image of justice in front of the world", said Sabbahi, who ran for president against Abdel Fattah al-Sisi, in an interview with Al-Masry Al-Youm. "There are cases where hundreds of group members are prosecuted in one trial, which gives the impression that the judiciary is used as a tool to settle accounts with rivals and overcome political differences".
Though Sabbahi said he has no reservations on the due processes, he believes executions for the Brotherhood are not a solution.
"I want to explain that whoever believes that the execution of Brotherhood leaderships is a solution is wrong," he stated. "Speaking legally, the Court of Cassation will surely turn down those verdicts."
Asked whether he sees instances of injustice in the trials of the Brotherhood, Sabbahi said the trials implicated innocent defendants.
"Justice has, surely, implicated innocents. I am not against accountability for the group leaders' crimes, I am against the current scene where some go jubilant after the Brotherhood to get the death sentence," Sabbahi said. "Does that foretell a future or signal that we are on the right track?"
Sabbahi suggested that the incumbent regime is practicing "the oppression of Morsi and his group when they assumed power," as he put it, adding that no action is taken on what he described as "current forms of oppressive practices."
Sabbahi said that authorities are apparently neglecting detainees inside prisons, either those belonging to the Brotherhood or those who do not.
"The frequent torture of Brotherhood members, prisoners of conscience and even Brotherhood sympathizers is totally unacceptable," Sabbahi, a member of an 2013 political coalition that led protests against the Brotherhood rule, said. "No one can be persecuted or tortured for holding a different opinion."
Sabbahi said he does not believe the Interior Ministry's frequent denials of torture and neglect of detainees, arguing that the death of Muslim Brotherhood leader Farid Ismail in prison last week is telling. He said Ismail did not receive any medication for his disease, "a serious negligence that required legal accountability," as Sabbahi put it.
Edited translation from Al-Masry Al-Youm