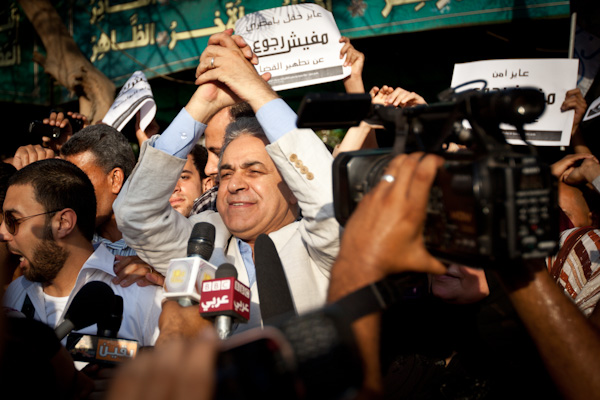 Former presidential hopeful and National Salvation Front leader Hamdeen Sabbahi issued a statement Friday morning saying he was prevented from appearing on a talk show with Khairy Ramadan on the CBC satellite channel Thursday evening.
Ramadan resigned on air Thursday evening after the channel's administration refused to let Sabbahi appear on his show.
"I was supposed to host political activist Hamdeen Sabbahi, the founder of the Popular Current, but the management of the channel contacted me and informed me that Sabbahi could not appear because I allegedly had not notified management," Ramadan said. "However, I had informed the director of the channel of the appearance."
"I am not a politician, I am a professional, and out of respect for my dear guest who honored me tonight and in consideration of my professionalism, I announce my resignation, and I do not want to work at all," he added.
Sabbahi claimed that his appearance was canceled because a "sovereign body" threatened the channel. He did not name the body, but the term implies the president's administration or intelligence services.
"A few minutes before the end of President Mohamed Morsy's speech, in which he talked about democracy and called for national dialogue, we were surprised by Ramadan's resignation because of CBC preventing my appearance," Sabbahi's statement said. "The channel's decision turned out to be the result of instructions, which amounted to threats, from a sovereign body."
The statement added that the incident proved that Morsy's talk of democracy and dialogue was disingenuous, as his regime continues to restrict free expression and attempts to prevent the opposition from addressing the people."
"Coinciding with this, I received unconfirmed news before leaving Media Production City that security forces might be on their way to arrest me," Sabbahi said. "I do not know if this information was accurate."
Sabbahi's statement concluded that Morsy's call for dialogue is meaningless, as he does not intend to cancel the "dictatorial" constitutional declaration or the referendum on the draft constitution, and his regime is attempting to terrorize the Egyptian people and suppress opposing views.
Edited translation from Al-Masry Al-Youm