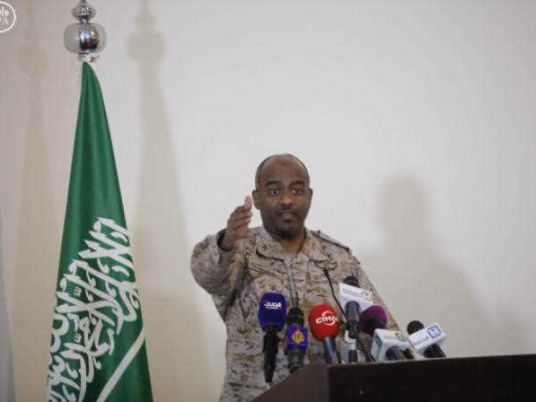 Major General Ahmad Asiri, the spokesperson of the Saudi-led military coalition to support legitimacy in Yemen, withdrew on Monday a statement he made recently that stipulated Egypt offered to participate in Yemen war with nearly 40,000 conscripts.
According to his clarification, he noted that what he meant was that Egypt has offered to participate with the aforementioned number of conscripts in forming a common Arab military force, as a part of a suggestion discussed at the Arab League; not to take part in the Yemen war.
According to the state-run news agency MENA, Asiri retracted the statement he released during an interview with Saudi privately-owned news channel Al-Arabyia, in which he said that President Abdel Fattah al-Sisi informed Saudi Arabia that Egypt can participate in the Yemen war by nearly 40,000 conscripts on the ground.
During this interview, Asiri added that the war methodology in Yemen that stipulates only the presence of Yemeni forces on the ground stood as an obstacle in front of Egypt's participation in the ongoing war.
The statement launched by Asiri sparked massive controversy on social media outlets, with political figures and local media outlets repeatedly raising questions as to the Egyptian role in the ongoing war in Yemen.
Earlier in 2015, the Egyptian army official spokesperson released a statement in which he fully denied all the circulated media reports at the time on ground participation from the Egyptian army in Yemen.
Moreover, he strictly noted at the time that Egypt only had naval and aerial participation with the forces assigned to engage in war in Yemen to support legitimacy.
Some political experts asserted on a regular basis that Egypt 's role in this war is restricted to securing the Bab el-Mandab strait, located between Yemen, on the Arabian Peninsula, and Africa.
In March 2015, Saudi Arabia launched airstrikes against Yemen with the participation of forces from other Arab Gulf countries; the military operations came in the context of a Saudi-led military coalition to support the legitimacy of the current Yemeni President Abdel Hadi Mansour against insurgents backed by Iran.