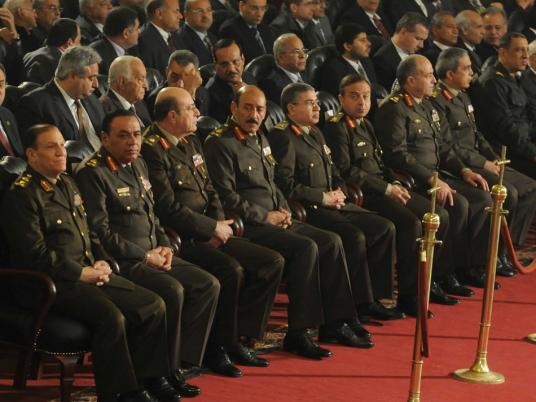 A military source denied media and internet reports that Egypt's ruling generals denounced a draft amendment that would deny Mubarak regime figures the right to run the upcoming presidential election, state-run news agency MENA reported.
The same source told the news agency Tuesday that the military is impartial toward all presidential candidates and will not support a specific one, adding that voters will select the next president through transparent polls.
On Monday, MP Mostafa Bakry's bureau director, Waleed al-Refaie, said through his Facebook page that the Supreme Council of the Armed Forces had denounced the draft amendment proposed by MP Essam Sultan.
Sultan's amendment, if passed, would deny officials from the regime of toppled President Hosni Mubarak the right to occupy leading state and government posts for 10 years.
Earlier on Tuesday, the People's Assembly Constitutional and Legislative Affairs Committee approved Sultan's proposed amendment. It will be opened for MPs to vote on in a later session for final approval.
Refaie had quoted SCAF official Adel al-Assar as stressing that Mubarak regime officials will not be subjected to political isolation.
Sultan earlier said the law targets the candidacy of former spy chief Omar Suleiman, who entered the race Sunday. Many speculate Suleiman is the SCAF's favorite to face the Muslim Brotherhood's Khairat al-Shater in the election.
Suleiman's bid spurred fears in revolutionary and political groups. Media outlets reported that some groups and candidates hope to join efforts to counter his nomination.