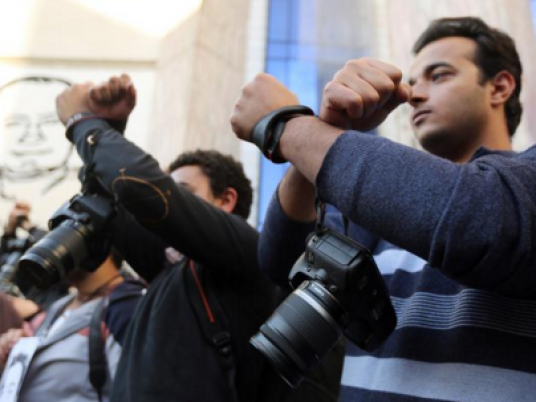 Security forces set up a security cordon around the Journalists Syndicate headquarters in downtown Cairo on Monday, as tensions continued between the syndicate and the Interior Ministry over the arrest of two journalists on Sunday.
Several streets leading to the building, including Abdel Khaleq Tharwat Street, were closed off, with police putting metal security barriers in place to stop traffic. Dozens of Central Security Forces personnel were deployed outside the building, along with vehicles, while Interior Ministry personnel in plain clothes were also spotted.
Earlier on Monday, Yehyia Qallash, the head of the Egyptian Journalists Syndicate, called for the resignation of Interior Minister Magdy Abdel Ghaffar following the arrest of two journalists at the syndicate's headquarters building in Cairo on Sunday.
In an unprecedented move, a group of armed security officers entered the syndicate headquarters on Sunday and arrested Amr Badr, editor-in-chief of yanair.net, and a journalist working for the same news website named Mahmoud al-Sakka.
According to Qallash, the two journalists, Badr and Sakka, had been issued with warrants by the State Security Prosectution on charges of "inciting protests" following several weeks of anti-government demonstrations centered around the transfer of two Red Sea islands from Egyptian to Saudi control.
The synidcate headquarters in Cairo had been the scene of several protests connected with the islands deal, including one on April 15 demanding that the trasnfer of the Tiran and Sanafir islands to Saudi Arabia be reversed.
Another planned protest outside the syndicate building on April 25 was foiled by security forces, who cordoned off the area and arrested several people, including journalists.
On Monday, security personnel were blocking access to the building, apparently in anticipation of further protests. However, they were allowing journalists accesss to the building on presentation of their journalism credentials or proof of syndicate membership.
A security source told Al-Masry Al-Youm that such measures as checking identities at the building are standard procedure and are not specifically aimed at preventing protests.
Edited translation from Al-Masry Al-Youm