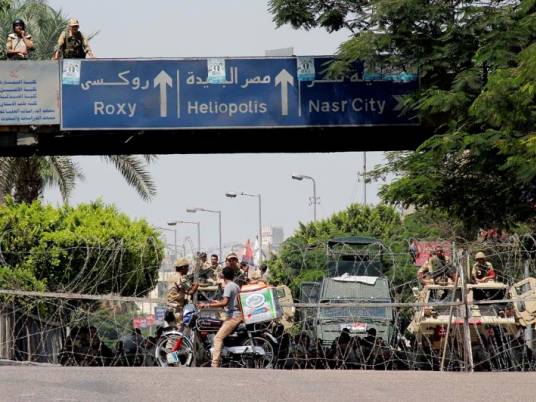 Security was heightened around the Defense Ministry on Sunday as supporters and opponents of ousted President Mohamed Morsy are expected to stage demonstrations in Rabea al-Adawiya and Tahrir Square.
Public transportation services were cut off from the streets surrounding the ministry, and the roads were blocked with barbed wire and iron barricades. Meanwhile, the Defense Ministry has provided citizens in the area with free transportation.
The Armed Forces, with the help of the military, riot police, thunderbolt forces, and Central Security Forces, are securing the area. Seven military vehicles were stationed near the barbed wire and barricades that surround the ministry.
Two Interior Ministry vehicles and four Central Security trucks, as well as members of the military and intelligence, are checking citizens' identity cards in the area.
Tawfiq Okasha, owner of Faraeen satellite channel, had called for a rally on Sunday in front of the ministry to support the army and Defense Minister Abdel Fattah al-Sisi.
Morsy supporters called for a protest at Rabea al-Adawiya while revolutionary forces opposed to the former president called for protests in Tahrir Square and across Egypt to support "popular legitimacy."
Edited translation from Al-Masry Al-Youm