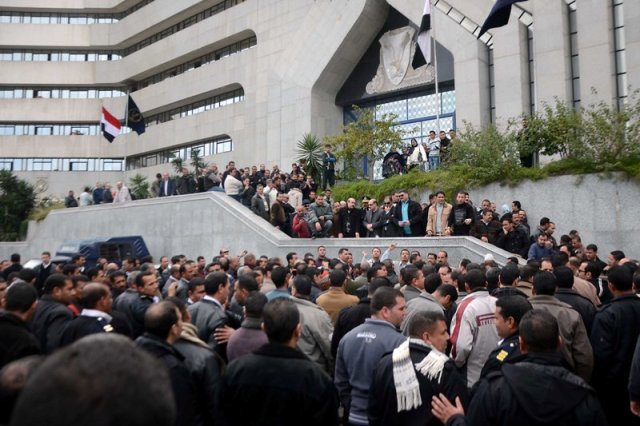 Police officers closed more than 30 police stations in the past few hours to protest the way Interior Minister Mohamed Ibrahim is running the ministry, a senior security source at the Interior Ministry said Thursday, state news agency MENA reported.
The source said in a press statement that police stations in Cairo, Giza, Ismailia, Port Said, Minya, Sohag, Daqahlia, Gharbiya, Sharqiya and Alexandria closed their doors, and many Central Security Forces departments went on strike nationwide.
Security leaders are reviewing the officers' demands and trying to convince them to return to work, the source said, according to MENA.
Six police stations closed Thursday in Cairo and Giza in solidarity with the strikes in other governorates, according to Al-Masry Al-Youm. The Qasr al-Nil, Old Cairo, Matareya, Nasr City, Shorouk and Dokki police stations all shut their doors.
Police officers said they would continue to protest until the minister decides they are properly armed to face riots.Officers also demanded Interior Minister Mohamed Ibrahim's dismissal.
Many policemen have died in clashes with protesters, and they say they were not armed to defend themselves.
Police in Alexandria shut down the security directorate's gate and held banners that read "Leave, Brotherhood minister" and "The police is in the service of the people, not killers."
In Media Production City in 6th of October, dozens of police officers demanded a law to protect them from repeated attacks by anti-government protests, and called for equal wages for police officers of all ranks.
Central Security Forces in the Suez Canal and Delta cities, which account for one-fifth of the CSF's overall forces, have continued their sit-ins and refused to carry out any of their normal activities.
The first of the CSF sit-ins began in the Delta city of Mansoura Tuesday and spread to Suez Canal cities Wednesday, when CSF officers rejected orders to deploy to Port Said to provide backup for security forces that began clashing with anti-government protesters Sunday.
Members of the CSF and other security forces participating in the sit-ins say that they do not want to be involved in handling security incidents in Tahrir Square. The police force in charge of securing the president's home in Sharqiya also refused to carry out its work Thursday.
Edited translation from Al-Masry Al-Youm