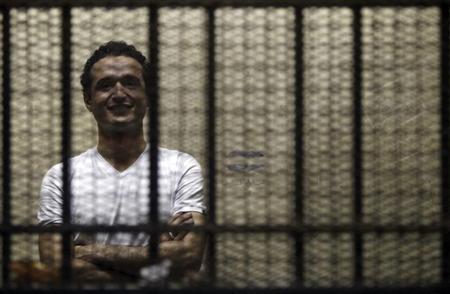 On Sunday, Abdeen Misdemeanor Court issues its sentence against political activist Ahmed Doma, founder of April 6 Youth movement Ahmed Maher and its member Mohamed Adel, on charges of attacking security forces, destruction of public and private facilities and injuring the forces deployed to guard the court.
The issue at the heart of the conflict is that the defendants were demonstrating against the instatement of the new protest law, which requires prior authorization from the Interior Ministry to hold demonstrations. The arrest of these prominent political activists worries human rights groups that the new political establishment is falling further backwards towards the old police state of the Mubarak era, or perhaps worse.
Clashes took place in late November when the activists demonstrated in solidarity with Maher who was being interrogated inside court over earlier protests against protest law.
The prosecution said in the previous session that the defendants "do not respect the law, but feel that they are above the law. They could have objected to the law on demonstrations through the Administrative Court [rather that demonstrating against it.]"
The prosecution representative argued that Doma had asked members of April 6 movement on Facebook to stop the violence, which means, in his opinion, that he is the organizer behind such demonstrations.
He accused the defendants of using stones, bottles and coffee shops chairs to attack security forces in front of the court, injuring seven people.
A witness told the court however that members of the forces were the ones using sticks and chairs to attack the activists, after they denied Maher access to the court, and only allowed his lawyers in.
Mohamed Badr, a witness, said that Maher was going to the court to turn himself in as advised by his lawyers when the clashes took place.
Edited translation from Al-Masry Al-Youm