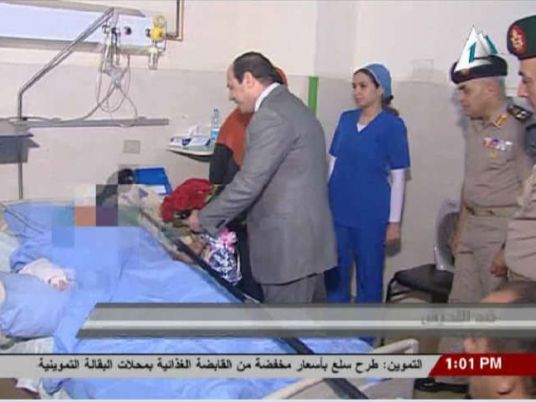 A brutal video depicting a sexual assault in Tahrir Square seems to have intensely focused much needed public debate on the issue of sexual assault against women in a nation known to be conservative in nature.
Several women who attended the celebrations of Abdel Fattah al-Sisi's presidential inauguration in Tahrir Square Sunday of last week became victims of sexual harrassment and assault.
The Egypt-based Nazra Center for Feminist Studies confirmed at least nine cases of mob-style sexual assaults during the Tahrir inauguration.
The video of the sexual assault in Tahrir Square that went viral on social media depicted a police man struggling to rescue an unidentified woman, who was stripped naked and showed signs of bleeding and burns.
"The assaulters circled a 42-year-old woman and her daughter, stripped the mother naked and groped her body until she fell down on a pot of boiled water used by one of the tea sellers at the square," a statement by the prosecutor general statement said. "Twenty-five percent of her body was burned. They tried to do the same with her daughter, but a police officer escorted her away."
In the days following the incident, Egyptian authorities requested YouTube to take the video down, but the Telegraph reports that YouTube has refused, only allowing versions where the victim's identity is blurred to remain online.
"We respect an individual's right to privacy and have always removed videos entirely where there is a privacy complaint and an individual is clearly identifiable," YouTube said in a statement.
Police said they arrested seven people in the case and 13 suspects in total have been sent to criminal court over sexual assaults that evening, but a number of suspects told Al-Masry Al-Youm that they were simply in the vicinity and were randomly rounded up.
A national problem
This event highlights a wider issue women face in the country. A recent United Nations report said that 99 percent of females in Egypt have been exposed to sexual harassment at least once and a number of human rights organizations said that 250 women were gang raped in Egypt from November 2012 until September 2013.
Egypt was also rated as the worst country for Arab women late last year in a Thomson Reuters Foundation poll, due to a rise in sexual violence, harassment, genital mutilation and a rollback of freedoms since the 25 January revolution.
A new law promising harsher punishments for sexual assault passed just days earlier by the former interim president seemed to have done little to deter offenders. The legislation made the offense punishable by up to five years in prison and a maximum fine of LE50,000.
Critics say the punishment is too lenient, with a number of activists demanding the death penalty for the offense.
Meanwhile, President Abdel Fattah al-Sisi tried to show the new government is addressing the problem when he visited the sexual assault victim pictured in the YouTube video as she was being treated at a military hospital. He offered his apologies for the incident, calling on every soldier, police officer and "chivalrous man" to eradicate this phenomenon.
"I apologize to you and, as a state, we will not allow this to happen again," Sisi said. "I am here to tell you and every Egyptian woman that I apologize to all of you."
Critics said Sisi's televised apology was merely an attempt to appease public opinion rather sensibly find solutions to the increasingly occurring incidents.
"He (Sisi) would not visit an assault victim if she was a Morsy supporter," said Hazem Khater, a Salafist from Hazmoon movement. "He simply did that because she was assaulted during his inaugural celebration and because the video was a shock to everyone."
Yassmin Elbaramawy, a musician, was a victim in a similar sexual assault incident in 2012. She said that assailants cut her pants with knives. "I decided to speak out to break the silence surrounding such cases," she added.
"Despite the spike in the number of sexual assault cases against women, reports filed at police stations were shelved for further notice and no de facto perpetrators were arrested since the 25th January revolution," Nazra center stated.
Gomaa Meshaal, an eyewitness to the recent sexual assaults in Tahrir square, said sexual assaults have become very widespread, especially in crowded events.
"Sexual frenzies were seen everywhere downtown. Every motorcyclist was a harasser and every girl was a victim of harassment," he said. "They had knives and they cornered girls in narrow alleys and assaulted them mercilessly."