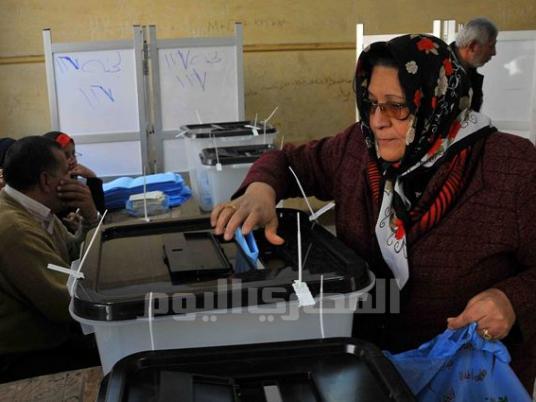 Egyptians headed to the polls on Sunday for the election of the upper house of parliament, with Islamists looking to build on their triumph in the People's Assembly.
Polling stations opened at 8 am with only a handful of voters in several stations, an AFP reporter said, in sharp contrast to the long lines and enthusiasm around the elections for the lower house of parliament.
The election for the Shura Council, an advisory body, takes place over two stages, after which members of both houses will choose a panel that will draft the country's new constitution.
The elections are part of a roadmap for a transition to democratic rule laid out by the ruling military council that took power after a popular uprising ousted veteran President Hosni Mubarak last year.
The first phase of voting takes place over two days in 13 provinces, including the largest cities, Cairo and Alexandria, and the second in the remaining 14.
Under the complex electoral system adopted after Mubarak's ouster, two thirds of the Shura's 180 elected members will be elected via a party-list system, while one third will be elected directly.
One third of the Shura Council will be nominated by the head of state.
Under the framework for a transfer to civilian rule, the Supreme Council of the Armed Forces (SCAF) has said the two chambers, once elected, should choose 100 members of a constitutional commission.
Most political parties are pressing for the constitution to be completed ahead of presidential elections due to be held before the end of June.
The powerful Muslim Brotherhood's Freedom and Justice Party won a crushing victory in the lower house of parliament elections, which were contested over three months, to clinch 47 percent of seats.
The Nour Party, representing the ultra-conservative Salafist current of political Islam, came second place, with liberal parties trailing far behind.
The election comes amid nationwide protests calling for the immediate ouster of the ruling military council led by Mubarak's longtime defence minister, Field Marshal Hussein Tantawi.
Tens of thousands of Egyptians took to the streets on Wednesday to mark one year since the start of the uprising that ousted Mubarak after 30 years of autocratic rule.
A year on, protesters accuse the military council of mismanagement and human rights abuses.
Demonstrators are demanding an end to military trials of civilians, the restructuring of the interior ministry and a guarantee of freedoms and social justice.
The Muslim Brotherhood has been less vocal in calling for the army to step down, prompting tensions with some anti-military protesters.
The SCAF has vowed to cede power to civilian rule by June when a new president is to be elected, and has repeatedly pointed to the parliamentary elections as proof of its intention to abandon politics.
But protesters accuse the military of seeking to maintain some degree of control over Egypt, even after June.