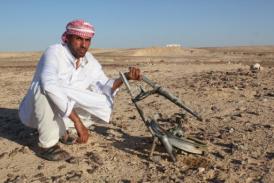 Sinai tribes announced on Thursday that they would delay their protests against the Armed Forces' decision to ban land ownership in eastern Sinai, despite the ultimatum they had given the state.
On 22 January, Sinai tribes threatened to revolt if the government did not overturn the defense minister's decree banning land ownership in the eastern border area by the end of the month.
The tribes threatened to block the international road to Rafah and roads leading to the industrial area in central Sinai until their demands were met.
In a statement issued Thursday evening, the Sinai Tribes Union said they would delay their protests due to the widespread unrest overtaking the nation. The statement added that the tribe leaders who called for the protest were in "permanent session."
"We are waiting for a memorandum to be issued explaining the decision, as the Armed Forces promised to issue by the beginning of the month," Sheikh Eid Abu Sengar said.
The wave of violence that swept through the country since 25 January may have distracted the government away from addressing the anger of the people in Sinai, the tribe leader told Al-Masry Al-Youm.
Arafa Ibrahim, an activist from the Tarabin tribe, argued that "ignoring the demands of the people of Sinai because of being preoccupied with violence in other governorates" was illogical. Violence in one place could spark the same reaction in another place, he warned.
The Sinai Tribes Union issued a statement asserting the tribes' refusal of the land ownership ban, and called on all Egyptians to fight for the interests of the people, especially the people of Sinai.
In December, Defense MinisterAbdel Fattah al-Sisi banned private ownership, rental and use of nearly all land in the 5 km stretch of property along the eastern border with Gaza and Israel, with the exception of Rafah.
Sisi also banned the private ownership, rental and use of land on islands, protectorates and archaeological sites in the Red Sea Governorate.
Edited translation from Al-Masry Al-Youm
An earlier version of this story erroneously stated that the Sinai tribes were giving the Armed Forces until Friday to reverse their decree.