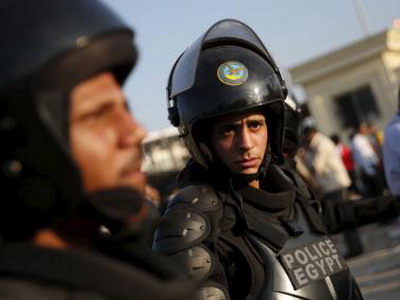 President Abdel Fattah al-Sisi arrived Monday at the headquarters of the Police Academy in New Cairo to attend celebrations marking the 71st anniversary of the Police Day.
Police Day is commemorated every year on January 25.
President Sisi was welcomed upon arrival by Interior Minister Mahmoud Tawfiq.
The military band played the national anthem. President Sisi also laid a wreath at the memorial of police martyrs.
During the celebration, President Sisi is set to honor names of some police martyrs, who will be awarded the Order of the Republic in recognition of their great sacrifices for the sake of homeland.
The president will also grant Medals of Excellence to some police officers, in recognition of their efforts and loyalty.
The ceremony is attended by Prime Minister Moustafa Madbouli, Al Azhar Grand Imam Ahmed el Tayyeb, Pope Tawadros II of Alexandria and Patriarch of Saint Mark Diocese, House of Representatives Speaker Hanafy el Gebaly, Senate Speaker Abdel Wahab Abdel Razek and a host of senior state officials.
Police Day commemorates resistance by Egyptian police to British occupation forces in Ismailia in 1952, which resulted in the death of dozens of police officers.