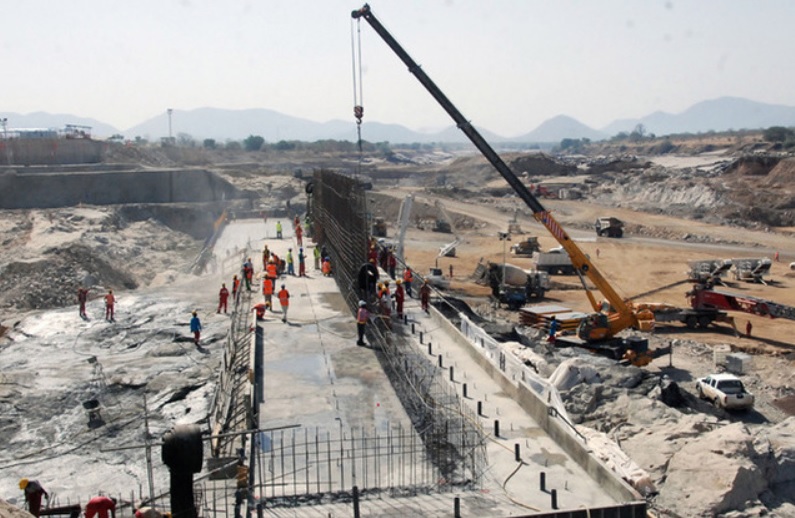 President Abdel Fattah al-Sisi held a meeting on Tuesday with Prime Minister Sherif Ismail, Governor of the Central Bank Tarek Amer, and various cabinet members on Tuesday to provide an overview of the negotiations and discussions held at Monday's African Union (AU) summit in Ethiopia, which sought to move past the stalemate and dissolve the brewing tension between Egypt, Sudan, and Ethiopia regarding the controversial technical issues of the Grand Ethiopian Renaissance Dam (GERD).
Present at the meeting were the ministers for foreign affairs, the interior, housing, investment, justice, and finance, as well as the Acting-Chief of General Intelligence Service (GIS) and the the Chief of Administrative Control Authority.
Sisi presented a summary of the outcome of the tripartite meeting he held with Sudanese President Omar al-Bashir and Ethiopian Prime Minister Haile Mariam Desalegne discussing the dam's technical issues.
The three countries will form a nine-member committee, including intelligence chiefs of the three countries and ministers of foreign affairs and irrigation, to discuss the consultation office's initial report, starting from January 29, said Abu Bakr Hefni, the Egyptian ambassador to Ethiopia.
Hefni added, that "the agreement was concluded by the leaders of the three countries. We hope that there will be a solution to all the controversial technical issues [over the next] month."
Meanwhile, sources said that the three countries' water and foreign ministries will hold a meeting in Khartoum, Sudan, in February, to carry out hydraulic and environmental studies examining the effects of the dam on Egypt and Sudan.
Sudan affirmed its rejection of participation of the World Bank (WB) in the dam's negotiations – as offered by Egypt – saying they will offer an alternative proposal within a month, confirmed sources.
Edited translation from Al-Masry Al-Youm