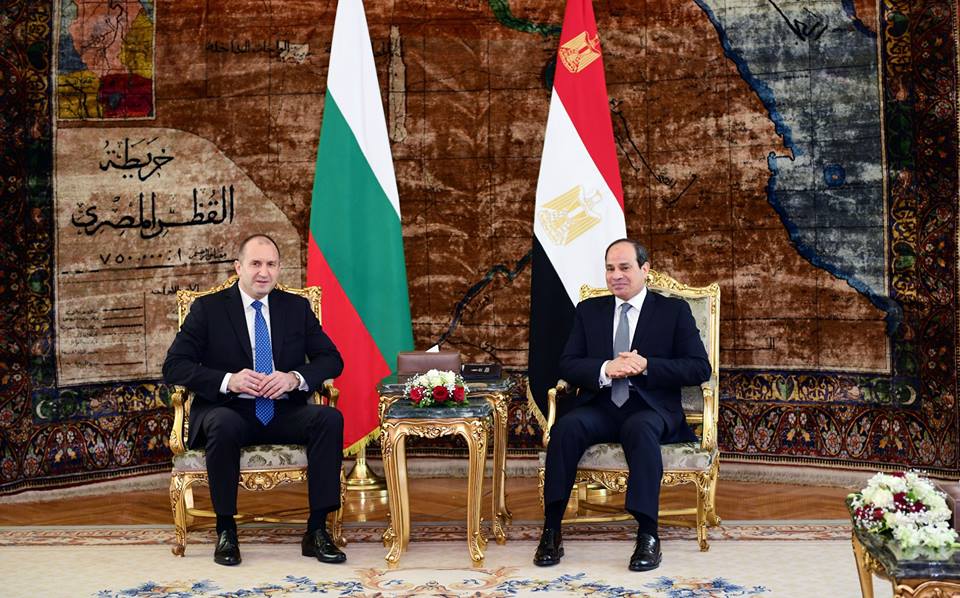 Egyptian President Abdel Fattah al-Sisi met with his Bulgarian counterpart Roumen Radev on Tuesday in Cairo to discuss combating terrorism, illegal immigration and promote trade.
During a joint news conference with Radev, Sisi announced the launch of the Bulgarian-Egyptian Business Council as one of the most important results of the Bulgarian President's visit to Egypt.
Sisi anticipates the council to have a positive impact in boosting economic relations and increasing investments and trade exchange, which currently exceed US$1 billion, making Egypt Bulgaria's first trading partner in Africa and the Middle East.
"During the talks, we discussed ways to strengthen bilateral relations politically, economically and militarily. We also reviewed regional and international issues of common concern and ways of dealing with some current crises in order to reach peaceful solutions, which emphasizes the need for continued coordination and communication between us in support of the stability of the Middle East and the Balkans," Sisi said.
"We also discussed ways to enhance joint cooperation and security coordination against the threat of terrorism," the President added.
The two leaders stressed the importance of concentrated international efforts to address and eradicate terrorism by roots, he explained, alongside the need to develop a comprehensive counter-terrorism strategy that includes addressing the bodies and states supporting terrorist groups and extremist organizations.
"We also discussed the crisis of illegal immigrants and ways of dealing with them in a framework of shared responsibility and burden-sharing. In this context, I explained Egypt's efforts and responsibility, both in terms of securing its borders and hosting large numbers of refugees," Sisi said.
For his part, Bulgarian President Radev said that Bulgaria and Egypt are allies against terrorism, organized crime and illegal immigration. He also welcomed Egypt's efforts to expand dialogue with the African Union, the Arab League and the European Union.
Radev pointed out that his country is one of the European countries closest to Egypt and has responsibilities to communicate Egypt's voice regarding the EU's regional problems, as the situation in the Middle East determines security in Europe.
He added that they also discussed measures to exceed trade exchange limits to reach investment cooperation and joint production, as both countries have huge potential and these capabilities will enable them to further cooperate and work together.
Other topics that Radev mentioned they discussed was cooperation in the field of maritime transport and tourism cooperation, especially as both countries have enormous potential in this field.
The Bulgarian President said that they also discussed cooperation in the energy field and the need to diversify energy sources.
Edited translation from Al-Masry Al-Youm