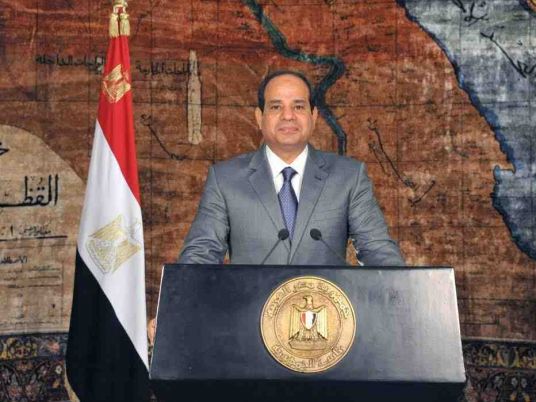 President Abdel Fattah al-Sisi is expected to request a document acknowledging Egypt's rights on the Nile River during a visit to Ethiopia on Monday, an official source told Al-Masry Al-Youm.
Sisi is heading to Sudan on Monday for a brief meeting with his Sudanese counterpart Omar al-Bashir, before flying on the same day to Ethiopia to meet with Prime Minister Hailemariam Desalegn and President Mulatu Teshome, said an official.
This will be the first official visit by an Egyptian president to Ethiopia in nearly three decades. The last was by former president Hosni Mubarak in 1985. This trip comes in light of an apparent controversy over the Ethiopian Grand Renaissance Dam, a power-generating and irrigation project which Cairo fears might reduce its shares of the Nile.
During the visit, according to the official, Sisi is scheduled to address the parliament asking for an official document which will attest to Egypt's rights on the Nile River. In return, Egypt will acknowledge Ethiopia's water-related development needs. However, the fact that Ethiopia was not party to the 1929 and 1959 water-sharing agreements signed by Egypt and Sudan will most likely be a point of contention.
The official added that Sisi's speech to the Ethiopian parliament will also reiterate the importance of relations between both countries and the need to "eliminate misunderstandings resulting from the media's approach to the Renaissance Dam issue".
Earlier in March, the foreign ministers from Egypt, Sudan and Ethiopia reached an agreement over the principles of sharing the Nile River waters, as well as ways of benefitting from the Renaissance Dam, a development observers considered as a step towards Egypt and Sudan's recognition of the Ethiopian Dam.
Edited translation from Al-Masry Al-Youm