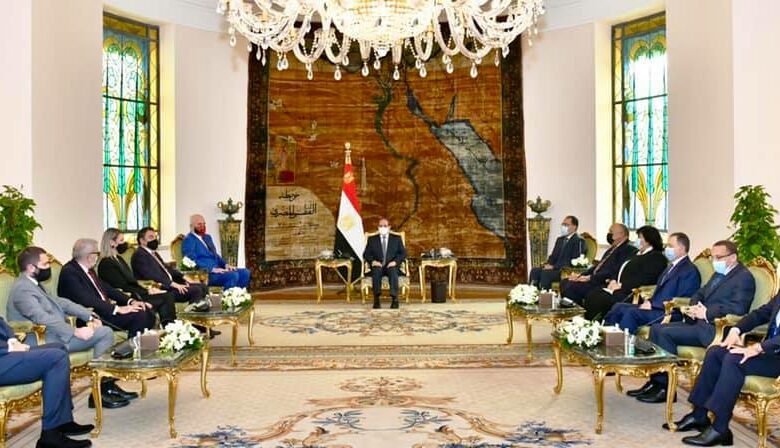 Egyptian President Abdel Fattah al-Sisi on Saturday met with Albanian Prime Minister Edi Rama to discuss bilateral relations and joint cooperation between the two countries.
The meeting at the Ittihadeya Presidential Palace touched on topics such as economic cooperation, increasing trade exchange and enhancing mutual investments in various sectors.
Egyptian presidential spokesperson Bassam Rady said that President Sisi welcomed the Albanian Prime Minister and expressing his country's pride in the friendship and historical ties between both nations.
Egypt seeks to expand its cooperation with Albania in various areas, he said.
Rady added that Sisi congratulated Albania for obtaining a non-permanent seat on the UN Security Council from 2022 to 2023, and appreciated how both countries are harmonized in their visions on most regional and international issues, as well as positive coordination in various international forums.
Sisi discussed the importance of regular political consultation with Albania during its tenure in the UN Security Council.
Thw Albanian Prime Minister expressed his gratitude and appreciation to President Sisi, stressing the strength of the historical ties between the two friendly countries.
He expressed his country's aspiration to advance bilateral cooperation with Egypt in all fields, especially in light of Egypt's tireless efforts to maintain international peace and security, as well as the pivotal role that Egypt plays at the regional level in the Middle East and the Mediterranean Sea basin.
The Albanian Prime Minister said he was eage to follow-up the unprecedented development efforts that Egypt is witnessing under the leadership of President Sisi, in recent years, and his country's interest in benefiting from the inspiring Egyptian experiences in this context to apply them in Albania.