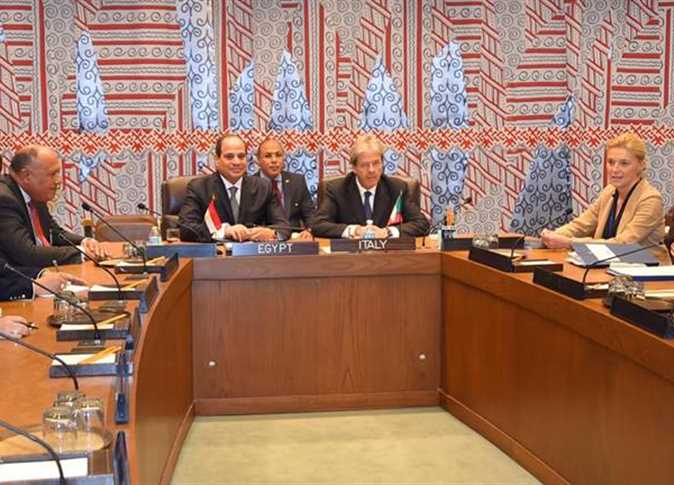 Egypt's President Abdel Fattah al-Sisi met on Wednesday evening with Italian Prime Minister Paolo Gentiloni on the sidelines of the 72nd session of the United Nations General Assembly.
Alaa Youssef, the official spokesman for the Presidency, said that the meeting reviewed the developments of the case of Italian student Giulio Regeni who was killed in Cairo last year.
Youssef added that both sides agreed to continue close and continuous cooperation between the investigations bodies in the two countries.
In this regard, the President affirmed Egypt's full commitment to work on clarifying the truth of this incident and bringing the perpetrators to justice.
The 28-year-old Italian Cambridge student researcher was living in Cairo to do field research for his PhD thesis on independent unions in Egypt. He disappeared last January 24 in central Cairo at a time when there was a heavy police presence in anticipation of protests.
His body, bearing signs of torture, was later found by the side of a road.
Police officials at first suggested Regeni might have died in a road accident. They have thus far released scant information about their investigation.
An Italian autopsy showed that Regeni's body was covered with cuts and his bones were broken, indicating he had been hit with "fists, batons and hammers".
Egypt has emphatically denied that its police were involved in his abduction.
Egypt has pledged to bring Regeni's killers to justice, and Egyptian and Italian investigators have held regular meetings in Rome. Italian officials stated that they have received all the requested evidence – such as phone records – but more than a year after, Regini's murder remains unsolved.
Edited Translation from Al-Masry Al-Youm