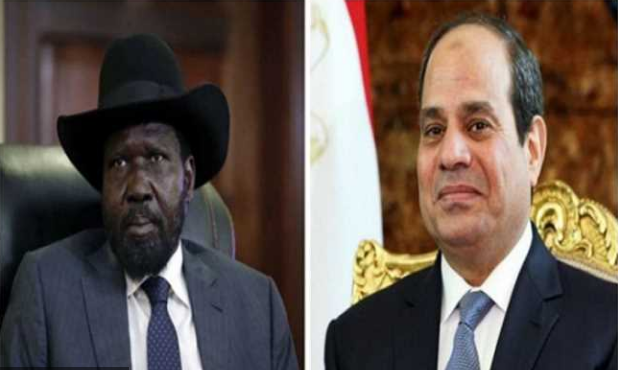 Talks between Egyptian President Abdel Fattah al-Sisi and South Sudanese President Salva Kiir began at the Ettihadeya Presidential Palace on Thursday morning.
Salva Kiir arrived on Wednesday in Cairo on a three-day visit.
Presidential spokesperson Bassam Rady said that the two African leaders would hold a summit-level meeting to discuss bilateral relations in various fields and discuss a number of issues of common concern.
Rady added that the meeting between Sisi and Salva Kiir is a confirmation of Egypt's keenness to establish peace in South Sudan.
Salva Kiir's visit to Cairo is aimed at developing relations between the two African countries and to inform the Egyptian president on the process of the peace agreement signed recently between the conflicting parties in South Sudan, according to a statement issued on Wednesday by Salva Kiir's spokesperson. He added that Kiir will hold a meeting with Secretary General of the Arab League Ahmed Aboul Gheit.
The spokesperson added that the delegation accompanying Kiir included the South Sudanese defense minister, the director of Kiir's office, and other senior officials from South Sudan.
Kiir visited Cairo in January 2017, heading a high-level delegation that met with Sisi. The two leaders discussed means of boosting bilateral relations between Egypt and South Sudan, as well as the latest developments in the Horn of Africa region.
Sisi also met Salva Kiir on the sidelines of the Forum on China–Africa Cooperation FOCAC 2018, which was held in Beijing in September 2018.
According to a statement issued by Egyptian Foreign Minister Sameh Shoukry at that time, the leaders had discussed developing cooperation between both countries as well as the recent political and security developments in South Sudan.
Shoukry reaffirmed Egypt's support for the political road map that has been drawn up in South Sudan, adding that Egypt would provide support to the formulated political agreement.