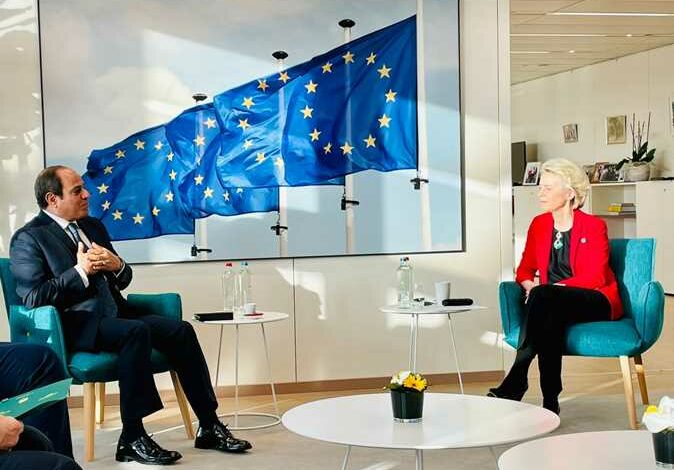 President Abdel Fattah al-Sisi met on Thursday with President of the European Commission Ursula Gertrud von der Leyen.
This was part of his visit to the Belgian capital, Brussels, official spokesperson for the Presidency of the Republic Bassam Rady said.
Von der Leyen welcomed Sisi's visit to the headquarters of the EU, and expressed her keenness on regular communication with Sisi, describing Egypt as an important strategic partner of the EU.
She stressed the EU's desire to continue advancing cooperation with Egypt at various levels.
Sisi welcomed continued communication with the EU, expressing appreciation for the Egyptian-European relations.
Also stressing in the interest in developing and deepening the traditional partnership between Egypt and the EU, being one of the most important dimensions of the Egyptian policy.
Egypt and the EU share the Mediterranean region, which historically had an important impact in extending bridges of civilizational, cultural, commercial and political communication between Egypt and the European continent, Sisi said.
The meeting followed up the developments of various aspects of relations between the two sides.
Matters discussed were in the fields of new and renewable energy, infrastructure and green transformation, in light of Egypt's hosting of the annual UN Climate Change Conference COP27 2022.
The two officials discussed Egypt and the EU efforts to combat the phenomena of illegal immigration and terrorism.
The meeting also touched upon discussions on the most important and prominent political issues of common interest in the Mediterranean, the Middle East and North Africa.
Throughout the meeting Von der Leyen stressed the great importance that the EU attaches to Egypt's important and pivotal role in balancing regional issues.