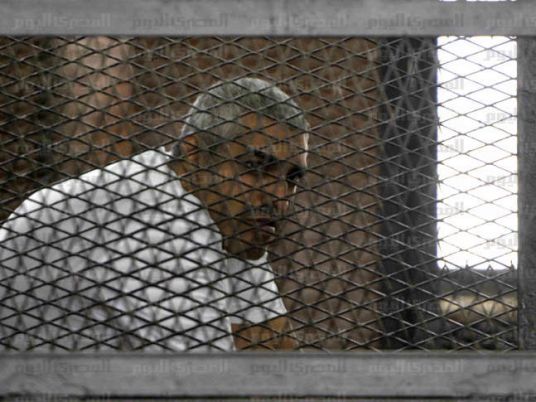 Egyptian President Abdel Fattah al-Sisi said he wished three jailed Al-Jazeera journalists including an Australian had never been tried, in an expression of regret relatives described as encouraging on Monday.
Australian Peter Greste, Canadian-Egyptian Mohamed Fahmy and Egyptian Baher Mohamed were sentenced to between seven and 10 years in jail on charges of defaming Egypt and aiding banned Islamists, in a ruling that sparked a global outcry and demands for a presidential pardon.
The June 23 sentencing had had a "very negative effect," Sisi told Egyptian news chiefs, according to the mass circulation newspaper Al-Masry Al-Youm.
"The sentencing of several journalists had a very negative effect, and we had nothing to do with it," Sisi was quoted as saying.
"I wish they were deported after their arrest, instead of being put on trial," he added, apparently referring to Greste, the sole non-Egyptian.
The verdicts, a day after US Secretary of State John Kerry visited the newly elected Sisi in a show of support, was seen as deeply embarrassing for America's top diplomat.
Washington described the sentencing of the journalists as "draconian" and called on Sisi to release them, while the United Nations said imprisoning them was "obscene".
Former army chief Sisi, who won elections in May, a year after overthrowing Islamist president Mohamed Morsy, had said he would not interfere with Egypt's courts, which the government says are independent.
But in the meeting with newspaper editors, Sisi appeared to regret the blowback from the trial, in a move welcomed by Greste's family.
His brother Andrew, who visited Egypt just last week, described Sisi's comments as "heartening".
"I'm sure images of Peter in the cage in the court are not images Egypt really want distributed around the world," he told reporters in Brisbane.
"And the publicity they're getting out of this I'm sure is not the publicity any country would want."
He said he was not sure if the president's comments would lead to a resolution, after his previous refusal to intervene in judicial matters.
"I'd like to think that there's things happening at all levels… and every one can talk about it and seek an amicable solution," the brother said.
Greste's parents visited their son in jail for the first time since his arrest last week, calling it a "horrendous experience".
His mother Lois Greste said her son, who was "very sombre", had been moved to a different prison where he was being kept in a "dormitory-like situation" with about nine others.
The Al-Jazeera ruling is the latest issue in Egypt to stoke concern among rights groups since a 2011 uprising toppled long-time autocrat Hosni Mubarak.
Since the army ousted Morsy in July last year, political unrest has reached unprecedented levels in Egypt, with more than 1,400 people killed and at least 15,000 jailed in a government crackdown.
Fahmy and Greste were arrested in December in a Cairo hotel room they used as a makeshift bureau, and police took in Mohamed later.
A presidential official said Sisi could not pardon the reporters until the appeals process, which has not ended, has been exhausted.
But there appears to be no such legal constraint in Egyptian law.
A pardon by Sisi, however, could be interpreted at home as a show of weakness and acquiescence to international pressure.