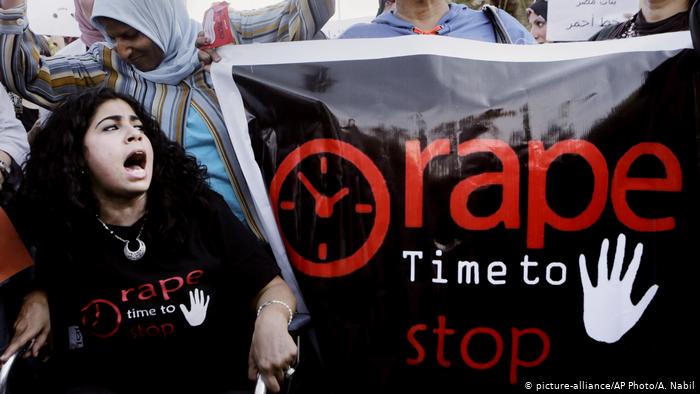 Testimonies about a gang rape that allegedly occurred in a hotel room at the Fairmont Nile City Hotel in Cairo in 2014 have been circulating on social media over the past few days, along with demands to arrest the suspects, all of whom belong to wealthy and influential families.

The hashtag #Fairmontcrime is now trending on Twitter in Egypt, with testimonies claiming that eight young men raped a young woman after giving her GHB (gamma-hydroxybutyrate, also known as the date-rape drug) at a party at a five-star hotel. The perpetrators also allegedly filmed the gang rape, after which they each signed their name on the victim's body and then used the video to blackmail her.
The names of the alleged suspects, as well as their photos, have been shared by social media users, although the case still has not been taken up by Egypt's Public Prosecution, since no formal complaints have been made against the suspects.
The case provoked anger among many human rights activists and media personalities, including Egyptian feminist and television presenter Radwa al-Sherbiny, who urged victims to submit formal claims to the Egyptian Public Prosecution.
Sherbiny posted a message to both the victim and the accused men on her Facebook account on Thursday: "In 2014, a group of the dirtiest young men drugged a girl and gang-raped her in a famous hotel, amid a lot of laughter. They then signed her body after they were done."
She added, "After their story unfolded, they threatened [everybody], thinking now is still their good old days. We want to inform these rapist men of influence that the good old days are gone. To every woman who has been raped in these famous hotel incidents: Do not be afraid, the state supports you with all its strength and the National Council for Women will stand up for you like a lion."
She concluded her message by saying: "Report anyone who has assaulted you, and whoever has evidence should provide it. To the sons of powerful people, sorry, but nobody is above the law."
Director Amr Salama commented on the incident on his Facebook account: "The story of this famous hotel is a story about a number of young men who raped a girl in 2014 in a hotel room, filmed the incident and circulated it among their friends to show off. A page [attempted] to expose the incident and the names of the accused became known. Then the page closed, announcing that [the admins] were threatened by the accused, who have power and influence, as do their parents."
He added: "If even a small part of this story is true, then this is perhaps the most heinous crime in Egypt for a long time. This crime is more important than a million other crimes […] Chasing rapists is more important than going after the TikTok girls, and more important than punishing Sama al-Masry […] It is more important than crimes of murder and treason, and even more important than the Beni Mazar murder. It is the duty of every authority in Egypt to investigate this. It is the duty of the media to play its role and show us the truth. And whoever neglects [their duty] will be considered an accomplice, and a rapist through their passiveness."
Fairmont Nile City Hotel issued a statement on Thursday regarding the allegations, saying: "We are aware of and have been following the online discussion concerning an incident that may have taken place during a party event hosted at our property in 2014. Our team has recently been in touch with the relevant groups circulating the posts to offer assistance and support, as our number one priority is the safety and well being of our guests and team members."
It added: "The management team along with all personnel at the hotel are committed to assisting the relevant authorities should an official investigation be opened and we will continue to offer our unfettered support on this matter. In the meantime, our thoughts and prayers are with anyone who might have been affected by this distressing incident."
German news outlet Deutsche Welle reported that the "Assault Police" Instagram account, which contributed to the arrest of alleged rapist Ahmed Bassam Zaki and has more than 170,000 followers, also published these allegations, but was forced to close abruptly on Wednesday after its admins "received several death threats," according to a source close to the admins.
After the page was shut down, Egypt's National Council for Women on Wednesday condemned threats of reprisals against women who speak out about sexual abuse
"The Council is following a subject related to threats of violence and abuse by some people against the founders and operators of social media pages and accounts, including those on Instagram, that publish content related to incidents of sexual assault and abuse against women and girls," a statement from the Council read.

"In this regard, the National Council for Women affirms that it stands with every woman and girl who is exposed to any form of threat, by providing all the necessary support. The Council calls upon those who have been exposed to such threats to contact us through our hotline "15115" so that necessary action can be taken," it added.
___
Image: (@picture alliance/AP Photo/A. Nabil)