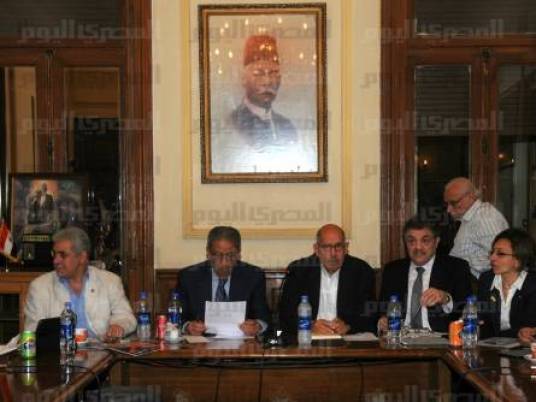 The Socialist Popular Alliance Party said Monday that its political bureau had discussed in a recent meeting whether it should continue to move forward as part of the National Salvation Front, Egypt's leading opposition coalition.
Established following a controversial constitutional declaration by President Mohamed Morsy in November 2012, the NSF, a coalition of liberal political groups, has been leading the opposition movement against the Muslim Brotherhood-led regime. Some observers believe that signs of division have been emerging among its ranks.
In a statement on Monday, the Socialist Popular Alliance Party said that it had contributed to the establishment of the NSF in 2012, with the aim of creating "a system of coordination for political groups against the despotism of the Muslim Brotherhood."
It added that although many Egyptians had pinned their hopes on the NSF to rid Egypt of the Brotherhood-led regime, the party had instead managed to lose much of the popular support it had initially enjoyed. "Its stance on many matters is not clear…and it has become unable to provide the public with a convincing alternative [to the Brotherhood]," the statement continued.
The Socialist Popular Alliance Party said that the NSF "lacks the mechanisms required for decision-making" because there is an "absence of communication with revolutionary and social groups." The party added that it has become common that some NSF members take unilateral action without consulting fellow members.
The party stated that discussions concerning cooperation with the NSF would continue in upcoming meetings held by its "central committee," noting that they would seek broader political alliances to gain democratic powers.
The latest instance of dispute within the coalition surfaced after Amr Moussa, a leading NSF member and former presidential candidate, convened with Deputy Muslim Brotherhood leader Khairat al-Shater without his colleagues' knowledge. The NSF disapproved of Moussa's meeting, saying that it currently is refusing to communicate with the regime.
In a statement, Moussa said that he had briefed Shater on opposition demands and of their intention to peacefully demonstrate on 30 June.
Edited translation from Al-Masry Al-Youm