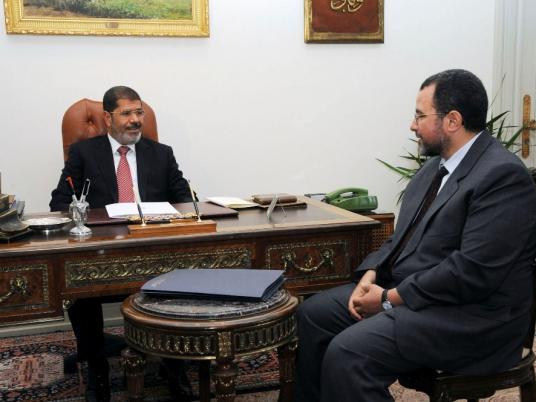 The Muslim Brotherhood had asked Prime Minister Hesham Qandil and ministers belonging to the Islamist group to quit in order to give President Mohamed Morsy a chance to negotiate with opposition groups demanding his removal, sources close to the Brotherhood have revealed.
Sources said the Brotherhood made the request in order for the president to agree with the opposition on a new premier before the Wednesday evening deadline set by the armed forces to accomplish political consensus between the regime and the opposition.
Ministers of foreign affairs, telecommunications, tourism, legal affairs and environment had announced their resignations on Monday and Tuesday. Two presidential spokespersons also quit on Tuesday. Their resignations come amid massive protests across Egypt demanding early presidential elections.
The sources noted that the Brotherhood is not ready to make any concessions other than a cabinet reshuffle or the replacement of Prosecutor General Talaat Abdallah. The sources explained that the idea of early presidential elections has not even been discussed within the group which, they say, still believes that Morsy has not been afforded the full opportunity to rule.
On its Facebook page, the Brotherhood's Freedom and Justice Party said it extends its hands to all national groups to confront "enemies of the revolution who want to return dictatorship to Egypt."
"The great Egyptian nation made the glorious 25 January Revolution to establish a modern, democratic state where power is rotated pecefully and through ballot boxes," read the statement.
Brotherhood spokesperson Yasser Mehrez told Al-Masry Al-Youm that the Islamist group urges all parties to "adhere to legitimacy and not to coup against it." He stressed that "negotiations are the only way out of the crisis."
Edited translation from Al-Masry Al-Youm