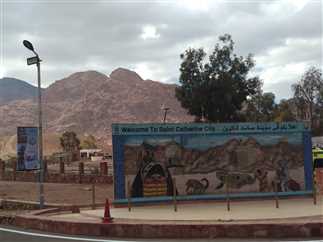 South Sinai Governor Khaled Fouda announced the Charter of St. Catherine for World Peace on Friday, under the patronage of President Abdel Fattah al-Sisi.
Friday is the second day of the city of Saint Catherine's three-day forum dubbed "Sinai: The Forum of divine religions", under the slogan "Here we pray together for world peace".
Endowments Minister Mohamed Mokhtar and a number of ministers and ambassadors are attending the event.
A ceremony was held on Thursday, launching the event for the fourth year in a row. The opening speech was given by Fouda, followed by a speech by Gomaa, and then another by MP Osama al-Abd, Chairman of the Religious Committee in the House of Representatives.
After the end of the celebration, participants ascended Mount Moussa and stayed there until dawn on Friday morning.
Fouda held a press conference in Saint Catherine's Monastery announcing charter's launch.
The churches of St. Catherine and the Monastery rang their bells at the time of Friday prayers, as a sign of religious solidarity and peace.
Gomaa also delivered a Friday prayer sermon at al-Wadi al-Moqaddas Mosque. After the prayer, tons of meat were distributed on poor people in Saint Catherine city.
Finally, Gomaa visited Saint Catherine Monastery, and met with its bishop.
Edited translation from Al-Masry Al-Youm.