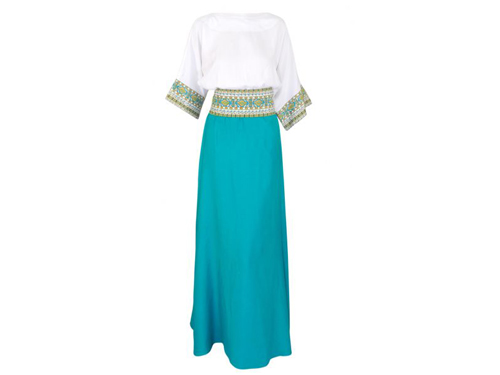 With something for every budget in our weekly must-have guide, there's no excuse for not looking fabulous this summer…
Below LE100
Retro Chic's fun rubber bracelets (LE63) are great to collect and match for the summer. The material is water resistant and the bracelets have different charms to choose from. Contact them on the Retro Chic Facebook group to pick up your set.
Nefertari's body care line has a longstanding reputation for great quality and natural solutions. This summer, they're offering a new shea butter soap (LE90) for the face and body.
The Um Ali Bowl designed by Joud (LE70) will work well for your first iftar of Ramadan. The bowl can be found on the Boutique Basha Facebook page.
Doha Shahib's neon bracelets (LE100) are all the rage. With the gold-plated adjective of your choice, you can send someone a pretty compliment!
LE100–300
Created and drawn by Salma al-Sayed, Asma al-Husseini and Basma al-Bittar, these bags (LE260) have brightly colored piping and colorful insides. There's a zippered pocket for your mobile phone, and the bag is machine washable and very durable.
Nana's Jewelry mixes summer colors with gold-plated brass in these peace rings (LE150) from her summer collection.
Head to Boutique Basha on 12 Mansheyet al-Tayaran Street in Roxy to pick up the Joud Blue Kaff Tray (LE190) and serve up tea and dessert with a little color this Ramadan.
Zafir's T-shirts, available in Zamalek and at Mall of Arabia in 6th of October City, feature funny men's and women's shirts (LE140) with clever Arabic phrases and expressions.
LE300–500
The collection of clutches by Le Cirque de Femme is bright and beautiful, adorned with pictures of celebrities. The most popular is the Soad Hosny red clutch (LE450) — see the company's Facebook page for more of the colorful collection.
Karma's new "Reminisce" summer collection features striking prints of women. Their maxi dress (LE370) with women of Luxor is particularly beautiful. It's available in a number of colors at Posh Boutique in Zamalek and online at Style Treasure.
El Horreya Designs for Freedom brings us this great summer bag (LE480). Also reversible, it can carry all your essentials and a beach towel.
Style Treasure has always got some of the greatest collections, and, for Ramadan, there's a colorful collection of kaftans by Nodi (LE480).
This piece was originally published in Egypt Independent's weekly print edition.