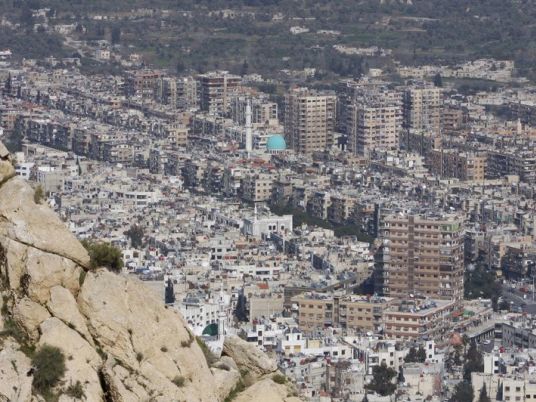 Syria's government and rebels exchanged some 30 prisoners and nine bodies, part of a larger agreement to evacuate four besieged areas in different parts of the country, activists and officials said Wednesday.
Hakim Baghdadi, a member of the relief committee for Foua and Kfarya, two rebel-besieged villages in northwestern Syria, said the overnight release was overseen by the Syrian Arab Red Crescent. He said gunfire erupted during the exchange, causing a pause in the process. He provided no further details. The Red Crescent had no immediate comment.
The military-run media said rebels released eight women, four children and eight bodies. Pro-government militias freed 19 gunmen and released one body.
The exchange came as part of a deal to evacuate over 10,000 residents from Madaya and Zabadani, two opposition-held areas near Damascus, and the two villages in northern Syria, an agreement that critics say amounts to forced displacement.
According to the military media and Baghdadi, nearly 200 buses are to carry out the evacuation. Abdul-Wahab Ahmad, a media activist from the rebel-held town of Madaya, said the first batch of 20 buses arrived and people are preparing to leave.
The UN says hundreds of thousands of Syrians are trapped in areas besieged by government forces or Islamic militants, where they face severe shortages. UN officials say the sieges amount to a violation of international law, and that evacuation agreements must be voluntary.
Images of malnourished children from Madaya, 26 kilometers from the capital Damascus, caused an outcry last year but the siege has continued.
Muhammad Darwish, who was unable to complete a dentistry degree after the war broke out, has been serving as a field medic in Madaya. He plans to leave the town with his clothes and school papers.
"We have mixed feelings," he said. "Joy and sadness. We've been fighting for six years, and now we have to leave."
Civilians are being given the option to stay, but he said it's too dangerous for medical workers to do so. Since the beginning of the conflict, the government has targeted medical workers with detention, torture, and bombardment.
"It's more dangerous for a doctor than it is for a fighter to stay," Darwish said.
Ahmad, the activist, will also leave because of security concerns, as will Wafiqa Hashem, a teacher in Madaya.
"Maybe it's demographic engineering, but it's better than a collective massacre," she said.
Some 2,000 people from Madaya and Zabadani have registered with the authorities to take green buses to the northern rebel-held Idlib province, according to residents.